China's top search engine, Baidu (NASDAQ:BIDU), says it scored 100 percent accuracy in predicting the outcome of World Cup quarter-final and group of 16 games. During the earlier group stages, Baidu hit 58.33 percent accuracy for its winner predictions, a foot ahead of Microsoft's Cortana and Bing 56.25 percent accuracy during the group playoffs, the Chinese company claims. Who knows how Paul the Octopus would have fared (may he rest in watery peace).
Baidu has set up a World Cup predictions page here (pictured below) that supports English as well as Chinese.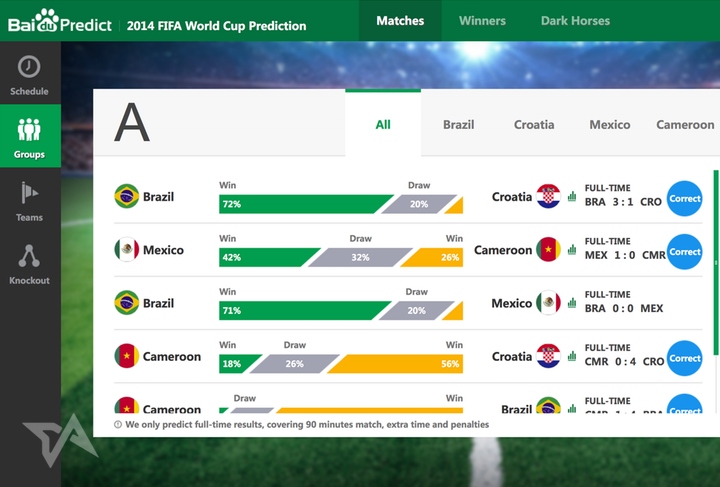 Zhang Tong, head of Baidu's Beijing Big Data Lab, explains how it works:
Prediction accuracy depends mainly on the data and the model. In this case we analyzed five factors: team strength, home court advantage, recent game performance, overall World Cup performance, and bookmaker odds. We aggregate data along these five dimensions from a wide variety of heterogeneous data sources on the Internet. We then use a machine learning model specially designed by our research scientists to aggregate the data and make predictions.
See: Baidu uses data to track world's largest human movement as Chinese New Year begins
A Baidu representative tells Tech in Asia that a small element of online sentiment is factored in, but the predictions are mainly about 'big data' and number crunching.
The data isn't always decisive. Yesterday's Brazil versus Germany game turned out to be a shocking 7-1 defeat for the hosts, Brazil, yet Baidu's big data only forecasted the German win by a slim 49:51 margin of certainty – hardly an indubitable call. Football fans – and gamblers – looking to Wednesday's Netherlands versus Argentina match will notice that Baidu's data is rather more certain (by a 43:57 ratio) of an Argentinian win (pictured below) in the last semi-final.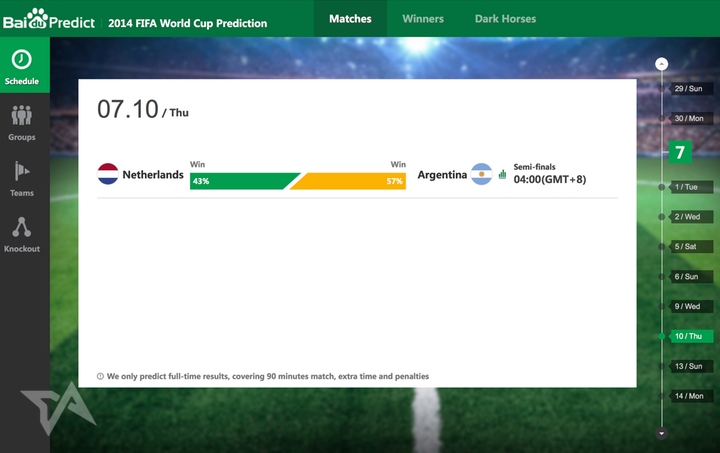 (Update 12 hours after publishing: The Baidu site has now refreshed with its data-driven prediction for the winner; added in the screenshot below) Baidu's number-crunchers have just predicted that Germany will win the World Cup final against Argentina: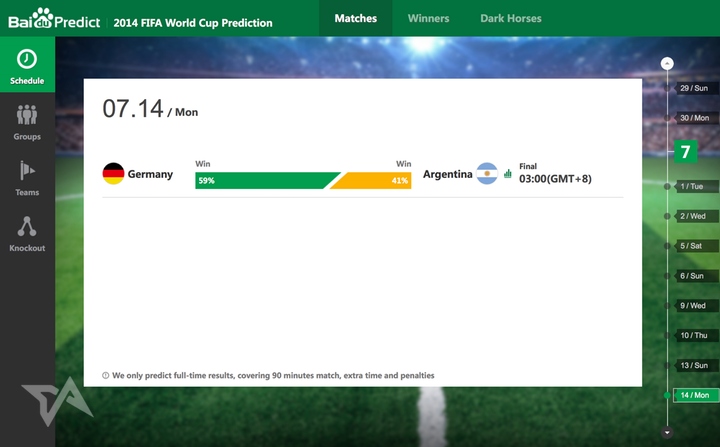 (Update: The title and first paragraph originally referenced Microsoft's Bing, but that's now changed to include the Cortana voice assistant app).