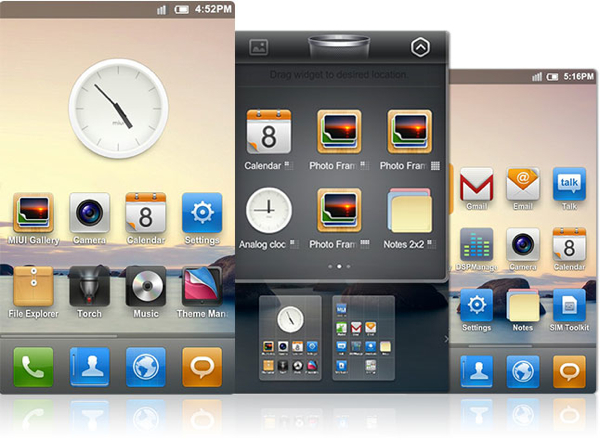 If rumors and expectation could be harnessed as a form of renewable energy, then Baidu's Mobile OS, reportedly based on Android, could power Shanghai's air-cons through a hot and humid summer. This time, we have the codename QiuShi and a timeframe for an end of 2011 release.
Chinese site TechWeb is additionally suggesting that Baidu has its Android-powered OS at the stage where its UI is being worked on by one of two experienced design teams who have long worked on mobile UI – either the DianXin team (backed by Li Kai-fu's Innovation Works fund), or the guys behind the good-looking MIUI Android ROM (pictured above).
MIUI is a very popular, multi-lingual ROM, made for selected Android devices. As well as being well designed, it's also quick, and gives users who've been stuck on an older Android version the chance to jump onto Android 2.3, and get weekly updates direct from MIUI's servers. It's theoretically full-featured enough to stand on its own as an Android-based OS.
We contacted a Baidu representative who says the company isn't commenting on a rumored Baidu mobile OS.
Baidu has a lot of mobile and web apps that would work very nicely in its own mobile OS, should such a thing transpire. On Android, Baidu already has Baidu Maps, Baidu Browser, Baidu Search and Baidu Chinese Input Method Editor. And with more people in China relying on a phone to get them online, compared to the US, dominating on the mobile scene – with mobile ads, as well as downloadable apps and in-browser mobile web apps – is key to perpetuating your platform.
Rival Tencent already has its Android-tweaked OS, as seen on the HiQQ smartphone that launched earlier this year.
[Source: TechWeb.com.cn]