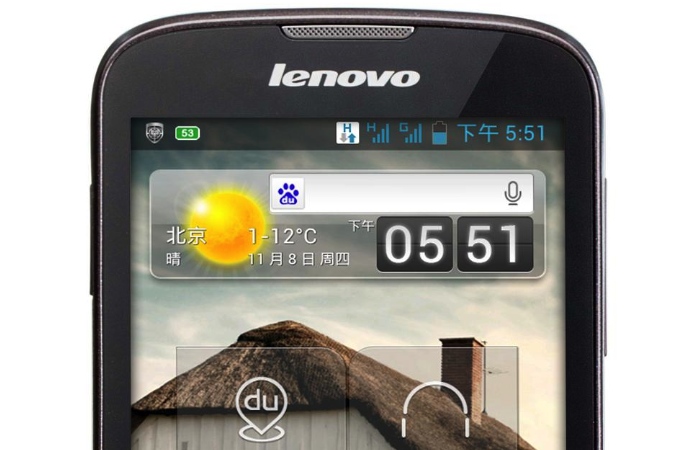 There are already a few ways to get into your Android device in a secure way: face recognition, a passcode, or a grid pattern. And now there's one more smartphone safeguard – voice recognition. This was partly created by China's Baidu (NASDAQ:BIDU), who call it "speaker verification" to create a "voiceprint," and so far it can be found only in the Lenovo A586 phone (pictured) that launches today in China.
This voiceprint unlock feature was jointly created by Baidu and the Singapore-based A*STAR Institute for Infocomm Research, at their Baidu-I2R Research Centre (BIRC) that we saw established in the lion state in February of this year.
'Speaker verification' sounds like a nice way to securely lock down your Android phone so that only you can get into it. I've tried face recognition on Android, but it comes with the issue of low light, and it doesn't always spot who you are. Hopefully vocal identification will solve that, though it might be a pain on noisy city streets.
The Lenovo A586 is dubbed the LePhone A586 in China. Lenovo (HKG:0992) is performing very well with its Android-based smartphones in its native China, seeing sales up 44-fold in the year from Q1 2011 to Q1 2012. Indeed, domestic smartphone makers are trampling across the graves of feature phones with glee, and homegrown phone brands now account for 60 percent of China's smartphone market.
Dr. Li Haizhou, co-director of BIRC, described this voiceprint roll-out as "a strong endorsement of user-inspired research and cutting-edge speech and language technology in I2R and BIRC." I2R's executive director, Dr. Tan Geok Leng, added:
Lenovo A586's adoption of the Speaker Verification technology that is developed through our joint effort with Baidu demonstrates I2R's commitment to translate their expertise in speech and language technologies into products that benefits consumers and the industry. It is indeed encouraging that an A*STAR-developed technology is being deployed in China, the largest and world's fastest growing smartphone market.