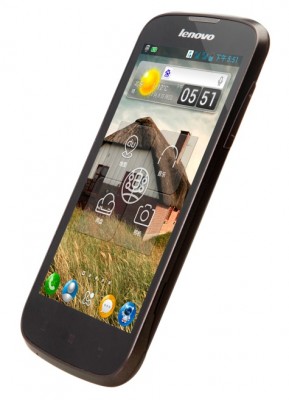 Chinese search giant Baidu is apparently continuing its trend of working with other tech companies to produce its branded phones. After partnerships with Dell and Changhong, among others, Baidu has teamed up with Lenovo to announce the new LePhone A586. Priced at 999 RMB ($158) when purchased through Lenovo's official site, the handset looks set to compete with the many other internet-company-branded phones that have flooded into the market over the last six months. Sales of the phone will begin on December 12.
The handset has been custom designed by Lenovo and features a high-performance Qualcomm chip. Its operating system is based on Baidu's cloud platform, but apparently it's not regular Baidu Yi; rather, it's a custom OS built on Android 4.0 that has some cool new features like voice unlocks. It has a 4.5 inch touchscreen with 5 million pixels and comes with a built-in camera that can shoot HD video.
There are lots of cheap handsets out there, of course, but not many of them are running Android 4.0-based operating systems at present, so that may be a draw for some buyers. I also suspect that with Lenovo — a trusted hardware company — behind the helm, this phone will hold some appeal beyond people who just want to buy a branded phone from their favorite internet company. (Do those people actually exist? Lots of Chinese internet companies seem to think they do; I'm not convinced). Plus, at $150, it's a lot cheaper than some of its strongest competitors, like the Xiaomi Mi2 at more than $300.
[via Sina Tech]