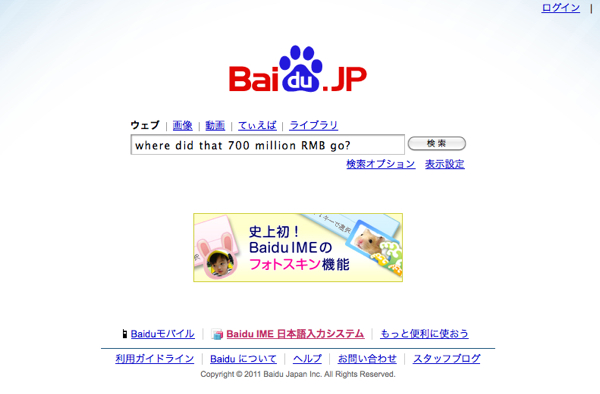 Baidu Search dominates its Chinese homeland, but it's struggling elsewhere – its biggest overseas venture in Japan, Baidu.jp, has filed losses of RMB 700 million (US$108.3 million) since 2008.
Baidu Japan actually opened in 2007, but required a relaunch in '08 after a shaky start. Those accumulated losses seem to have been sunk into general running and admin costs.
The Japanese search engine market is dominated by Yahoo, although Yahoo search is now powered by Google in Japan. This graphic, from SearchEngineWatch.com, reveals that Yahoo Japan holds 56.2% of the marketshare in the country, with Google.co.jp on second with 31.3%. Baidu Japan squeezes into the small purple slice that's badged 'others':
Baidu's filings, made at the United States Securities and Exchange Commission (SEC), reveal that Baidu is only generating profit in its homeland. That's in contrast to Google, which makes almost half of its profits – across search, advertising, and numerous other products – overseas.
Japan is the world's third-biggest search market, behind the US and China. When Baidu.jp opened up in 2007, Baidu's CEO Robin Li remarked:
We believe that with our proven strength in Chinese language search and our focus on delivering the best user experience, we will be able to provide Japanese users with a quality alternative to existing search engines.
But it has proved tougher than expected. Baidu Japan's losses aren't narrowing, and in fact have slowly inflated over the last three years, to 2010's annual losses of RMB 260 million.
[Source of stats: Sina Tech news – article in Chinese]