Baidu (NASDAQ:BIDU), China's most-used search engine, has revealed updated statistics showing that the iPhone is far-and-away the biggest driver of search traffic amongst mobile phones in China. Indeed, the iPhone drives three-times more traffic than the next most popular phone on the list, Nokia's 5233. You'll have to look down to fifth and sixth places to see any Android phones making an impact on Baidu's search pageviews: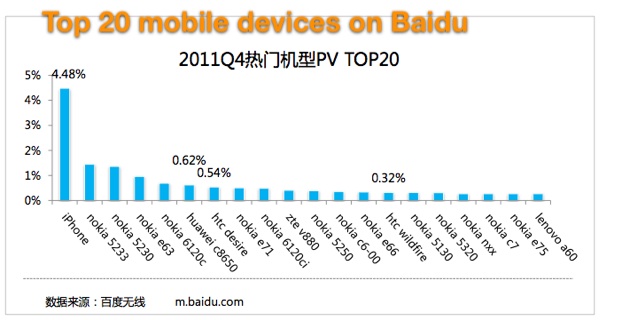 Comparing the Q4 2011 stats with those from Baidu for the same period of 2010 reveals that the iPhone has surpassed any Nokia device for the first year ever. The old numbers (below) show that Nokia's influence is dwindling as a whole, but Android (formerly grouped together into just one bar) is slowly gaining strength in China: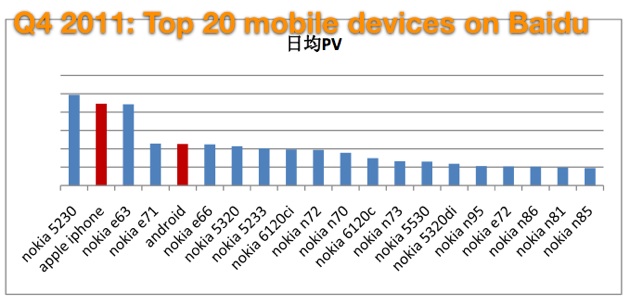 Here are some other key stats from Baidu's report, which was released earlier this month.
Smartphone versus feature-phone usage shows that users of China's two smaller mobile telcos, China Unicom and China Telecom, are more likely to be searching on Baidu from iPhones or Android smartphones, in contrast to the prevalence of all other platforms (eg: Symbian, a mass of JAVA OS devices, etc) that tend to be feature-phones on China Mobile: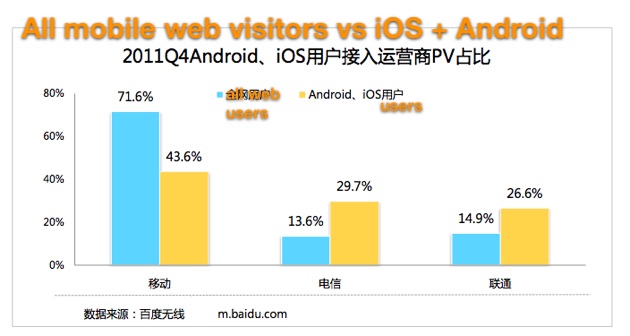 3G usage more than doubled this year, growing steadily as more people switched from the very slowest mobile data. Indeed, we know that China saw 80 million new 3G users come on board last year: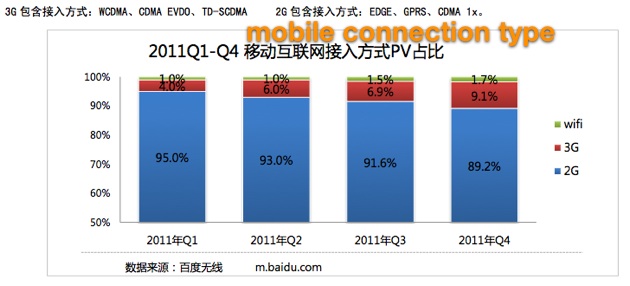 Android and iOS users much more likely to be on 3G, which is no real surprise since many feature-phones do not support it. Interestingly, such smartphones are also much more likely to be used on wifi networks: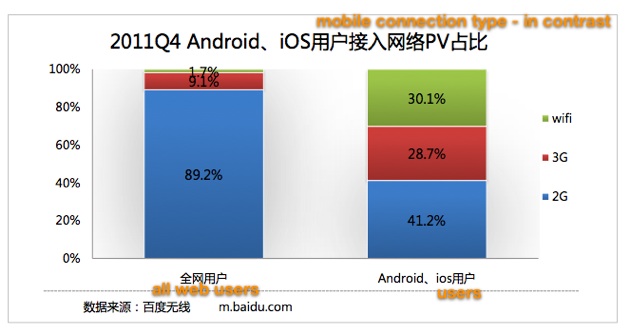 Nokia and shanzhai phones are still the leading brands being used to search Baidu, as was the case in Q4 2010. A rag-tag assortment of cheap shanzhai phones still account for 20.4 percent of such pageviews in the most recent stats – but that number is going down at quite a speed. Note from the second pie chart how the numbers are shrinking for the Finnish phone maker as well, dropping 13 percent in the course of a year: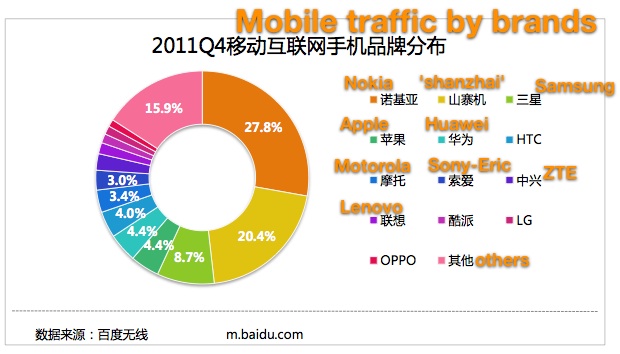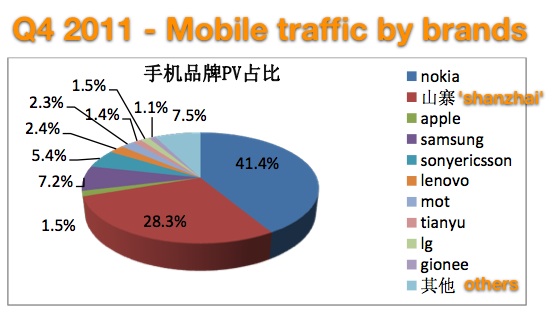 ---
Baidu's stats are interesting, and reveal a lot of trends. We'll check back in on these as new reports get released later in the year. I'll admit I was astonished that Android wasn't more prevalent on Baidu's servers, as the last time we looked at smartphone usage figures in China (from another source) we saw that Android was more than twice as popular for web browsing as iOS.
Nokia's supremacy shouldn't be too much of a surprise though. Last summer we crowned Nokia as China's web browsing king thanks to the humble Nokia 5230. But with Nokia's sales figures tumbling so terribly in China, its glory days might be over. And this win by the iPhone is the start of that.
For the full PDF report – and others from 2010 and 2011 as well – head to the 'Baidu Open Mobile' page.