Baidu's MP3 search has been a staple of its front-page search options for years, but yesterday evening, the company replaced "MP3" with "Music". It's a minor change, but an important one because it belies the merging of Baidu's music-related products into one unified platform which is called Baidu Music. Previously separate products like Baidu Ting, Sui Xin Ting, Baidu MP3 and Qian Qian Jing Ting have all been merged into Baidu Music.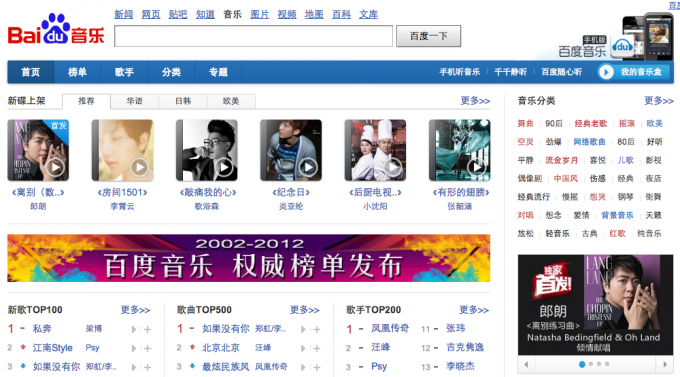 This is not to say that the user experience has changed all that much or that those products have disappeared. You can still search for MP3s and other music, and previously separate services like Sui Xin Ting are still available, they've just been folded into the music platform. It's the sort of thing many users might not even notice if they're not paying a lot of attention. But it makes Baidu's music branding efforts easier and expands its catalogue of music (in a way) by putting all the legally available music on its various services into one place.
With that said, the new additions and streamlining are quite welcome even if they aren't revolutionary (frankly, I think a lot of the people who demand technology be revolutionary are forgetting what that word actually means). Having a bunch of different music services just floating around in the ether was a bit confusing, and now it's quite clear from the get-go how to get exactly where you want from the front page whether your desire is to search for MP3s, listen to the radio, look up the lyrics to "Gangnam Style" or whatever else a music-lover's heart might desire.
[via Sina Tech]