Update: To curb the piracy issue, Baidu will put in place a filtering system which monitors and removes pirated content. The new implementation is expected to roll out on 11 April and fully launched on 1 May, Baidu spokesperson, Kaiser Kuo, told us through a phone call. Over 1.9 million documents were deleted. The final count isn't known yet. As expected, no action will be taken against the users.
Correction: The group of Chinese writers didn't demand Baidu to shut down Wenku.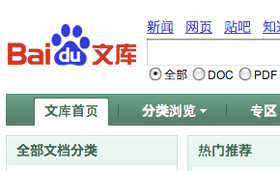 Pressured by a group of about 40 Chinese writers over piracy content, Baidu has deleted 1.9 million documents from Wenku. However, Baidu's action isn't enough to please the writers, we learned from a report by Sina.
Launched in 2009, Baidu Wenku is a portal for users to upload and share files and books for free. However, as time passes, the site has turned into an online bookstore for pirated content.
The piracy war between Baidu and the Chinese writers continues after a 4.5 hour long negotiation broke down. Baidu was said to have rejected all the writers' demands, which include compensation and a request to close down Wenku. Influential Chinese blogger Han Han said that Baidu representatives were arrogant and declined to shoulder the blame for any act of piracy.
Arrogant or not, I can understand why Baidu refused to take the blame. There is a disclaimer on Baidu Wenku that states that users must take on all liabilities and be responsible for compensation in any copyright disputes. That disclaimer puts users accountable for their actions, not Baidu.
The site thrives because of its users. I don't think Baidu would take action against its customers. It's a tough situation for Baidu but I believe protecting its users are more important. A win-win situation has to be reached. Perhaps there is a possibility that Baidu Wenku could turn into a pay-per-read platform with no download. That would benefit Baidu, the users and the writers. Everyone stays happy.
We have sent an email to Baidu to comment on the situation (see updates, above).
Connect on Facebook: