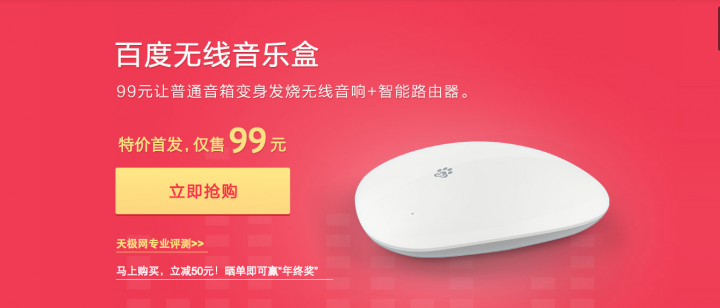 Baidu (NASDA: BIDU), the Chinese internet giant best known for its search engine, has recently unveiled its latest hardware product – a wireless music-streaming box that retails for a smooth RMB 99 (about $16).
The device can be connected to an ordinary set of household speakers, reports the People's Daily, and utilizes a number of different wireless protocools in order to let users broadcast music that's either stored in their smartphones, or that's streamed from domestic music services like Xiami, Baidu Music, Douban FM, Duomi Music, QQ Music, and others.
Throughout the past year Baidu has released a steady stream of smart devices for the home. So far it's got a router, a wi-fi dongle, a household-surveillance camera, and a TV set-top box (released by its subsidiary iQiyi) under its belt. It's also collaborated with other firms to incorporate its Baidu Cloud service onto a weight-tracker and a blood-pressure monitor.
This push into smart devices comes as part of an effort to promote its software offerings, which, in addition to Baidu Cloud, have increasingly been growing towards media. As such, the music box fits firmly within that mission.
Baidu will be releasing the music box in an an initial batch of 20,000, which will be sold exclusively on domestic e-commerce site Jingdong.
(Editing by Steven Millward)