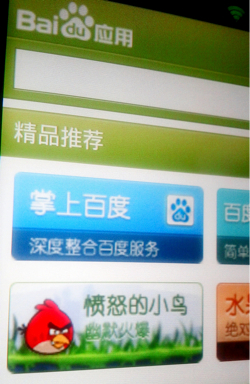 Baidu has opened an online store for Android apps, accessible only from Android smartphones on the Baidu Mobile homepage.
[UPDATED about a year later: It now has a proper URL at as.baidu.com and the name 'Baidu Mobile App Center'].
China's search giant is not hosting the software, and is merely aggregating them from a number of China's third-party app stores. At the moment the Baidu Android catalog is promoting two of its own apps, as well as ad-supported versions of the wildly popular Angry Birds and Fruit Ninja games.
After searching and selecting an app, a user can download it in just one click from Baidu's own page, with no need to visit the third-party store (as pictured below). It holds a lot of popular apps – even those from all of Baidu's biggest rivals, such as Tencent, Sogou, and Sina.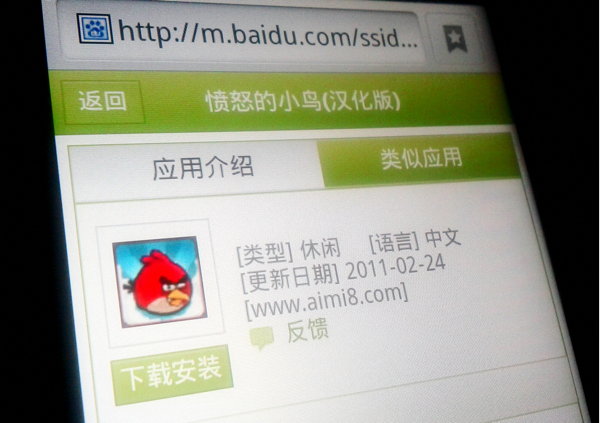 Android is growing in popularity in China, but Google does not support paid apps in China – and indeed a great number of Android phones sold here do not come with Google's own Market app installed.
Security concerns have plagued the Android platform in the past eight months, with a number of malware and spyware apps being uncovered, many of which were made in China for malicious distribution in China's many third-party app stores. This led the global app publisher ASC to team up with Tencent's new mobile security labs recently, to get security certification put on its distributed apps.
It's not yet known what deal has been reached, if any, for these third-party sites having some of their apps cataloged by Baidu. It's also not clear what, if any, security measures are in place, to verify the the apps.