Despite a still fragile economy, China's top search engine Baidu (NASDAQ:BIDU) believes it'll see a strong rise in ad revenues in 2012. Baidu's VP, Wang Zhan, said publicly this week that he expects in excess of RMB 20 billion (US$3.18 billion) in online advertising sales by the end of 2012 – which would be way up from 2011's total of RMB 14 billion ($2.2 billion).
Baidu leads the pack in China with its ad platform. At the end of 2011, data from Analysys International says that Baidu has the greatest market share in the online ad sector in China, at 30.5 percent of the industry's revenue. E-tailer Alibaba is second with 17.4 percent, and Google's remains third despite a shrinking proportion of the market: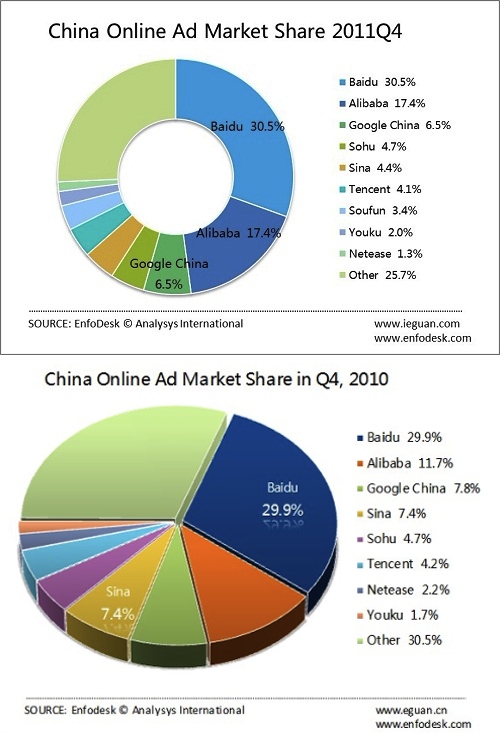 Baidu's share of the market grew very slightly from 2010 Q4 to the end of 2011. Mr. Wang's confident predictions suggest the company is looking to stretch its lead again in 2012.
But not everything is going Baidu's way this year, with a major new search engine emerging in the form of Qihoo's 360 Search. The software maker looks to have taken some market share from Baidu as well as Google. However, for the moment, Qihoo doesn't have an online ads platform.
[Source: Reuters]