Rovio Mobile will launch its much-anticipated Angry Birds spin-off game, called Bad Piggies, later today, and the company has taken to the roads of China to promote it. Last night, in a neat publicity stunt, the Shanghai Pudong skyline was turned green (pictured above) by a light-projection of the Bad Piggies, those dastardly nemeses of the understandably frustrated birdies.
But that's not all. As spotted by lots of Sina Weibo users, there are two elaborately painted vans going round Shanghai (pictured below). The red van represents the Angry Birds, and the green one for the piggies. We've confirmed with the Rovio office in Beijing Shanghai that the vans are "official and a part of our Bad Piggies launch" – but it's not clear what time exactly the new game will roll-out in China, and the game developer is keeping it under wraps for now. All we know is that it should hit iOS, Android, and Mac pretty much simultaneously sometime today.
[Update: Bad Piggies is available here]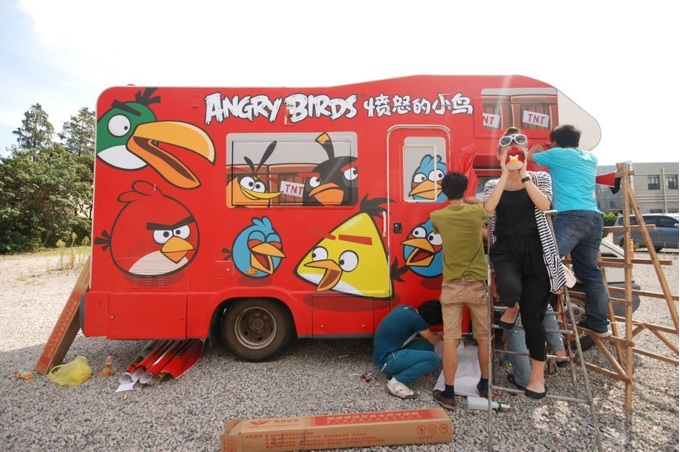 Bad Piggies will be the the second different title (following the puzzler Amazing Alex) after the huge global success of the four Angry Birds series games. China was a huge part of that success, as seen with the local Rovio office and versions of the original game that used familiar cultural themes, such as Angry Birds Seasons for Chinese New Year, and even one for the autumnal Moon Festival. If Bad Piggies prove as popular, then we'll likely see similar adaptations – and lots more cutesy piggy merchandise too.