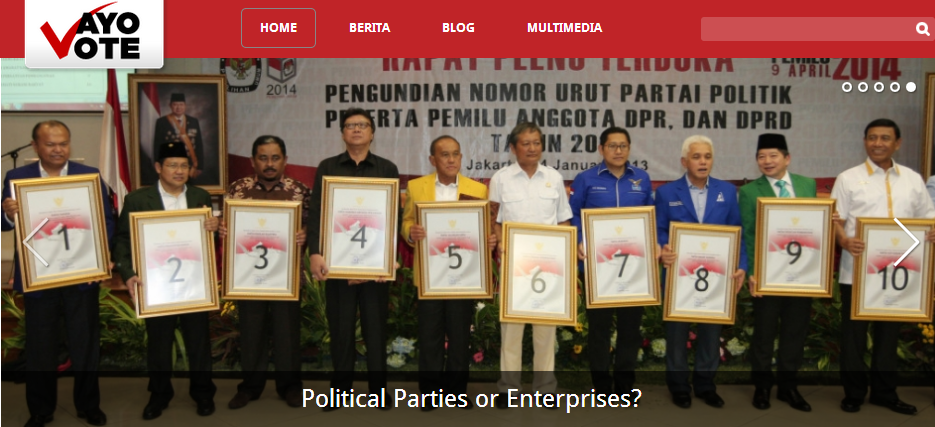 2014 is the year for Indonesian people to decide the country's future with national elections for both the legislative branch in April and the office of president in July. General elections in Indonesia are always haunted by problems, one of the biggest of which is apathetic citizens who do not cast their vote. In 2009's general election, up to 50 million out of 176 million potential voters didn't bother to pick a candidate. That's almost 30 percent.
Perhaps those non-votes don't know that their votes matter for their country's future, or maybe they're clueless about the candidates, which resulted them in not casting their votes. Either way, a new site called Ayo Vote (meaning 'let's vote') wants to help solve the problem.
Let's vote
Launched last July, Ayo Vote is an initiative that aims to encourage young people to participate in legislative and presidential elections. It educates youths about local politics through online knowledge sharing and discussions.
Founded by Pingkan Irwin and Abdul Qowi Bastian, Ayo Vote gathers all information about the general election from its history to its process. As well as having original content, the site compiles recent events from the BeritaSatu news portal.
Beside news, Ayo Vote creates profiles of all candidates, outlines their vision, and states the mission of the candidates' party. Plus, the site provides information about the duty, rights, and functions of governmental institutions, and explains how the legislative, judicial, and executive branches work.
To attract more youngsters to the site, Ayo Vote holds events – mainly discussions – about the Indonesian political system by inviting legislative candidates, political analysts, and lawmakers. These events are usually held at weekends in shopping centers where voting-age youths like to hang out. Ayo Vote also produces videos on its YouTube channel. There's a video series titled "Are you smarter than Pingkan?" which pits viewers against Pingkan Erwin in answering not too challenging questions about Indonesia's political system. So far there are only two episodes of that.
The power of technology becomes a trend
This site – and others like it that encourage engagement in the democratic process – indicates that there are citizens out there who still care about their country's future, and want to light a candle instead of grumbling and cursing in the darkness along with much of the rest of the web.
It seems to be a new trend on Indonesia's internet. In anticipation of this year's election, the General Election Commission (KPU) is setting up an online voter database to help citizens check their voting eligibility more easily and operating a page that lists the fixed candidates (DCT) running for office. It's not just government agencies who are busy prepping for election, as there is also an app named APSI that can be used by citizens to report on aspects of the election process.
(Editing by Steven Millward)