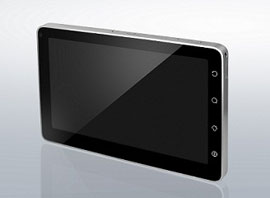 Singapore's tablet, JooJoo, was announced dead late last year. But that didn't stop Asia from challenging Apple's iPad.
Axioo, an Indonesia-based technology hardware company has introduced the Picopad, a Mobile Internet Device (MID) built on Google's Android platform.
According to David Kartono, Axioo's VP Product Development & International Sales, the tablet is called a MID because it has both tablet and telephone functions. The vision to draw the gap between a smartphone and notebook has inspired Axioo to create the product.
A smartphone has great mobility but it isn't great for work. On the other hand, a notebook can be too cumbersome. The Picopad fills the gaps in an Indonesian style.
"…There are no [Indonesian] products in between them," Budi Wahyu Jati, corporate director of Axioo said. "Axioo saw this as an opportunity."
The Picopad comes with customized design for Indonesians and also supports the Indonesian Language. MID users are also able to access Android Market, which contains over 100,000 paid and/or free applications. This highly customized product for Indonesians could possibly win Apple's iPad in Indonesia. Application developers could also ride the trend by building more applications catered for Indonesians. If that happens, it would make the Picopad more attractive to Indonesians.
The product is also available in Singapore, Thailand, Malaysia and Vietnam. Starhub, for example, is offering the Picopad free of charge in its Chinese New Year promotion if users signed up for its broadband plan. Picopad's retail price is about USD $520 and Axioo can consider it a huge success if just one percent of Indonesia's population (240 million) were to purchase the product.