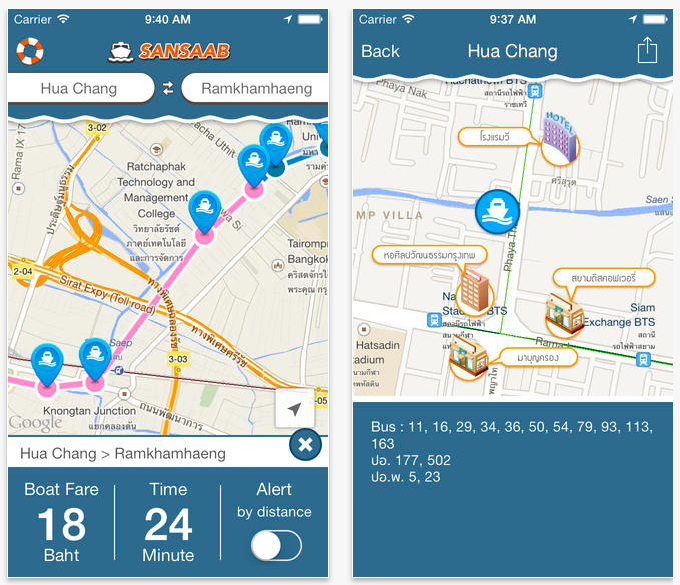 Bangkok is the world's number one tourist destination with almost 16 million tourists flooding into the city each year. There are a handful of useful apps for tourists to use to navigate Thailand's capital, but none of them make good use of the city's river.
That's why a group of senior students at Srinakharinwirot University created Sansaab as part of their graduation project. SanSaab – available in English and Thai – is a navigation app that guides you along Bangkok's main river, the Chao Praya, via the many express boat routes. The new app can show your current location, the nearest boarding piers, boat fares, and even calculates the travel time.
In addition, once a user clicks on a blue boat symbol that represents a pier, more information pops up, including historical details of the pier, landmark buildings nearby, and connections to the BTS (Skytrain) and MRT (subway).
Sansaab is useful for locals as well as anyone who wants to get around Bangkok using water transportation instead of getting stuck in road traffic.
Thai people have relied on the Chao Praya and its many tributaries and canals for ages. Khlong Saen Saeb, from which the app gets its name, is one of the main water routes as it connects so many important business and tourist spots across Bangkok.
Sansaab is free for iOS.
(Editing by Steven Millward)