After 15 years of working for someone else Mikaal Abdulla finally got smart and started his own company. He is the co-founder and CEO of 8 Securities and his journey has taken him through Silicon Valley, New York, London, Dubai, Mumbai, Singapore and now Hong Kong.
---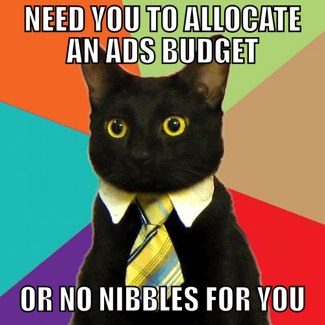 Somehow over the years 'advertising' has become a dirty word in the startup community. Why invest in paid advertising when your amazing product will generate network effects and go viral? After all, you are armed with Facebook, Twitter, Weibo and your awesome blog where advertising your product is free. This has become conventional thinking in many startup pitches.
I don't mean to sound like a jerk but the reality is your product is probably not as good as you believe and only three people are consistently reading your tweets (and one of them is your best friend). There is a dangerous and false notion that products sell themselves. They don't. You and I probably are not building the next Instagram or Pinterest so lets get serious. In my experience the old adage "it takes money to make money" is usually true. From day one, you should build your startup with a balance of great engineering, design, user experience and online distribution. Fall short in any one of these areas at your own peril.
There is no question that there is a place for social promotion and inbound marketing for any startup that needs to build awareness. In fact, I believe every startup should start marketing this way. Generating your own press, writing a blog, and social outreach are a must. After all, it is imperative to understand your position in the market and how you will present your brand and value proposition. There is no better way to do that than listening to early customer feedback. This only takes the investment of time and an open mind.
My position is that relying solely on inbound marketing is not enough. Barriers to launching a technology startup get lower every day and that naturally drives more competition who are fighting for your target customer's attention. Furthermore, you are going to find the coming years more challenging to raise capital from external investors. Believe me when I say that customer 'traction' is going to be a prerequisite for them. Pointing to page views or app downloads is not enough, more and more investors want to see real revenue traction and you need real paying customers to achieve that.
I strongly suggest provisioning investment for online search and display advertising to supplement your PR, social, and content marketing efforts. Online advertising is highly performance-based, it's measurable – and when done well it simply works. In Asia, your traditional competitors are likely investing in traditional media. Let them have it. You have a chance to own the online channel so take it. Learn the fundamentals of search marketing, display advertising, retargeting, and landing page optimization. Blogs such as Kiss Metrics, Hubspot and SEOmoz will teach you everything you need to know. Any startup that can master online distribution has a real advantage over a technical team that only builds product.
I believe paid advertising fell out of favor as the lean startup movement gathered momentum. The lean startup approach is smart. The idea of building a minimal viable product, getting early and frequent customer involvement, and iterating makes total sense. I was living in Silicon Valley in the year 2000 and in hindsight the startup scene was completely out of control. Technology was obscenely expensive, development teams were huge, releases were few and far between and companies were spending millions of dollars in the name of building a "brand." ROI (Return on Investment) did not seem to be in anyone's vocabulary at that time.
That said, there is a happy medium. Startups are building and deploying products smarter and faster than ever before. But never underestimate the positive impact of smart paid advertising. You are making investments in product development, in people, and in time. Don't make the mistake of believing customer traction is the natural result of building a great product. Customer traction is the result of building a great product and making customers aware of why they need it. As always, good luck and I am pulling for you. I leave you with this quote from Steuart Henderson Britt:
Doing business without advertising is like winking at a girl in the dark. You know what you are doing, but nobody else does.