Update: It turns out that there's actually no alliance or whatsoever but there are mixed remarks after we asked several of the below mentioned investors. Perhaps the most prominent and public remark comes from Ideosource Andi Boediman's blog post here. He said:
Chill out friends, this is just a casual lunch and no agenda to change the world…..yet…
We have reached out to Grupara's Aryo Ariotedjo (who sent out the press release yesterday) for comments and will update if we hear back.
Update 2:
Grupara's Aryo Ariotedjo commented:
It's more like a club for investors to work together for the tech ecosystem in Indonesia such as sharing investment intelligence and conducting events. Government issues aren't our priority. It is not for a cause or to change anything. I may have miscommunicated our agenda but it is more like a friendly group of investors working together. I also want to emphasize that any investors are more than welcome to join this group or club.
Aryo also said that this investors group will continue to function despite Andi's comment.
---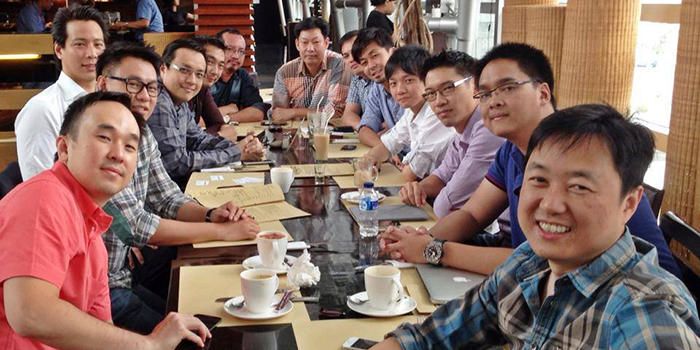 The startup scene in Indonesia is developing in a good direction. While we have seen the e-commerce players gather together to form the Association of E-commerce Indonesia (aka: Idea), now we also have Indonesian venture capitalists (VCs) and incubators befriending each other and building their own association called the Alliance of Venture Capitalists in Indonesia (AVCII).
The alliance is founded by eight VCs and incubators: CyberAgent Ventures, East Ventures 1, GEPI, Grupara, Ideosource, Jakarta Founders Institute, Merah Putih Incubator, and Mountain Indonesia. The association will effectively do three things:
Empowering the members within the organization through sharing of knowledge, resources, facilities, data, and information inside the organization to make sure they have the best ammunition in helping grow the country's tech scene.
Encourage growth within the tech entrepreneur community through workshops and education, including about how VCs and incubators can help scale businesses. AVCII is also open to working together with universities for developing an entrepreneurship curriculum as well as investing in potential companies.
Establish partnerships with government and regulatory institutions, as well as getting backers from conglomerates and former government officials to make sure that they and AVCII can work together on making a better Indonesia through good regulations.
(See also: Hold your horses: Indonesian government hasn't approved any new regulation to halt foreign investments)
Appointed as the chairman of AVCII is Sebastian Togelang of Mountain Indonesia, while Grupara's Aryo Ariotedjo becomes its vice chairman. The association is open to more members both locally and internationally. VCs, incubators, accelerators, angel investors, and any kind of investors are welcome to join for free.
Most of AVCII's events will be held at GEPI's new co-working space as well as Grupara's headquarters at The Energy Building SCBD.
(Editing by Steven Millward and Paul Bischoff)
---
Disclosure: East Ventures invests in Tech in Asia. See our ethics page for more information.