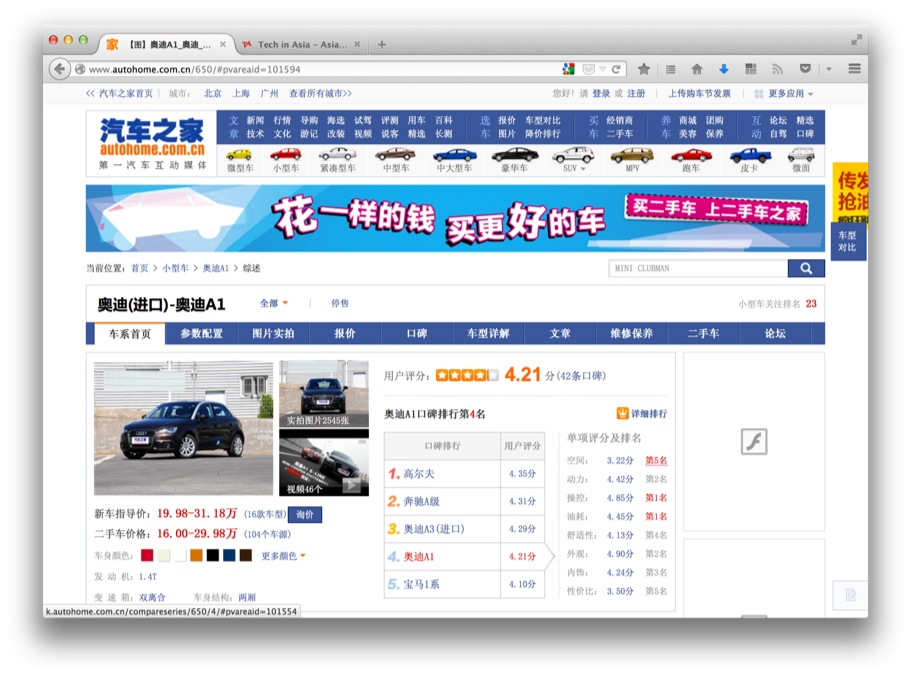 2013 has seen a surge of Chinese tech IPOs after a couple of years of quiet anxiety on the markets. The latest one is Autohome (NYSE:ATHM), a car news, listings, and classifieds website, which hit the New York Stock Exchange last night priced at $17 per share. The company raised $132.94 million.
Autohome's stock soon revved up, and it ended Wednesday's trading at $30.07 per share, up 77 percent from its debut price. With China's car market exploding, investors are clearly keen to get a slice of the action. Chinese consumers bought 19 million cars in 2012.
Autohome claims to be the top car portal on the Chinese web – occupying 46 percent of all time that people spend reading about cars online – via its two sites, autohome.com.cn and che168.com. We're talking about China here, where there are plenty of strong web portal companies, so Autohome has plenty of rivals on the web.
Forbes notes that the real winner of Autohome's IPO is its major stakeholder since 2008: Telstra, the Australian telecom and media company. Telstra (ASX:TLS) bought its stake for just $76 million five years ago.
(Editing by Josh Horwitz)