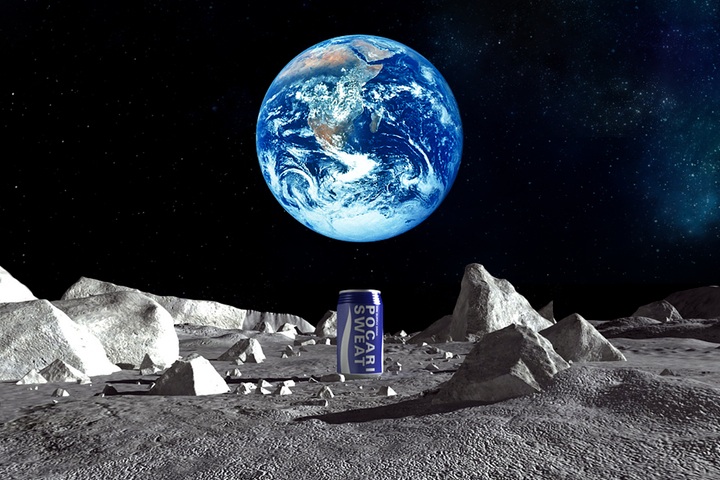 If there is water on the moon, the company behind Japanese sports drink Pocari Sweat hopes that future space travelers will make use of its "Lunar Dream Capsule." The small aluminum can, which was put on display in Tokyo earlier today, will deliver Pocari Sweat powdered drink mix and messages from children to the moon's cratered surface.
In partnership with Singapore-based startup Astroscale and others, the capsule is slated to launch in October 2015. If successful, it will mark the first ever moon landing by the private sector.
At first glance, the capsule looks almost identical to an ordinary blue can of Pocari Sweat.
Nobu Okada, Astroscale's CEO, explained that – despite its simple-looking exterior – the capsule consists of more than 70 components that were custom-designed to protect it from vibrations during launch and extreme conditions on the moon's surface.
Inside, 120 titanium plates will be laser-engraved with handwritten dreams submitted by children in Asia and around the globe. Copies of a "dream ring," which acts as a key for opening the capsule, will be distributed to those whose messages are accepted. Okada hopes that one of those children will someday journey to the moon and open the capsule.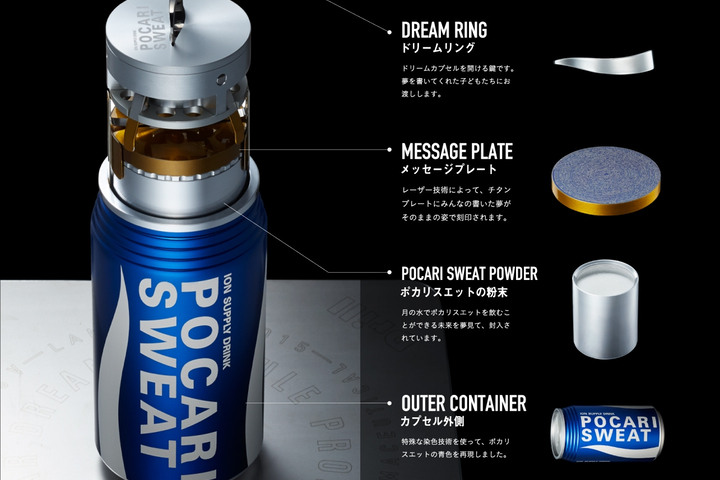 Okada developed a keen interest in space after receiving an autograph from Mamoru Mori, Japan's first astronaut, when he was 15 years old.
"I was a failure up until then, but after that day, I changed," Okada said. "What Mori did for me back then, I want to return that to the children by 100 or 1000 fold. I've been searching for an opportunity for a long time."
Messages will be collected during visits to elementary schools in Japan and around Asia. Messages can also be submitted through the Lunar Dream website until May 2015.
Private companies pushing into space
Pocari Sweat and Astroscale have also teamed up with US-based Astrobotic, a payload delivery service that CEO John Thornton described as "FedEx or UPS for the moon." The company was selected on May 2 to be part of NASA's Lunar Catalyst program and has already began testing its moon lander in the Mojave desert.
(See: This Singapore startup wants to remove killer litter from space)
For Astroscale, specifically, the moon landing will be a precursor to its larger goal of becoming the leader in space junk cleanup. Okada, who was a fan favorite at last week's
Arena battle
at
Startup Asia Singapore 2014
, hopes that the project will give more legitimacy to privately-run space endeavors.
Though Pocari Sweat declined to provide funding details for the Lunar Dream project, Okada confirmed that two venture capital firms have contacted him since last week's event. He wouldn't disclose their names, but said that one is based in the Bay Area and the other is in Singapore.