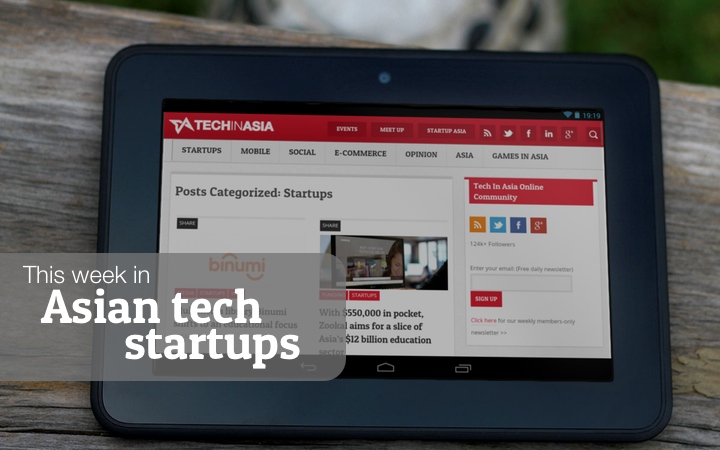 Here's our newest round-up of the featured startups on our site this week. If you have startup tips or story suggestions, feel free to email us or tell us about your startup on this form. Any juicy tech news tips go here. Enjoy this week's list!
Launched in August 2012, Today's Headlines is a newsreader which doesn't focus on RSS like western counterparts, and instead relies on the user following specific people, topics, and news sources. This week, the startup announced it has secured its third round of funding, this time led by Sequoia Capital.
---
India's CouponDunia is a site that specializes in online discount vouchers that can be used on local ecommerce sites such as Flipkart, Amazon India, and Foodpanda. This week, Times Internet, the online subsidiary of The Times of India Group announced that it has acquired a majority stake in CouponDunia.
---
Soft-launched in February, PhilSmile is an education payment startup that taps on a potentially huge market – overseas Filipino workers – for an educational payment system. The service lets individuals abroad pay for their children's or relatives' school fees, with the choice of making a one-time total payment or breaking the cost into multiple payments.
---
Tokyo-based online education startup Mana.bo is aiming to disrupt Japan's deeply entrenched juku (cram school) market by moving lessons online. Students simply take a photo of a problem and send it to available tutors, who receive a notification on their mobile device. Tutors check the problem and let the student know they're available to help. Once the student selects a tutor, they can can then initiate a voice or text chat with a virtual whiteboard. The startup received seed funding from CyberAgent Ventures last year.
---
2C2P, a Bangkok-based online payment processing company, has secured an undisclosed amount of funding from GMO Global Payment Fund.
The startup now has offices in Cambodia, Hong Kong, Indonesia, Laos, Malaysia, Myanmar, the Philippines, Singapore, and Thailand.
---
Edusnap is an civic-minded app for iOS and Android that allows students to snap and submit pictures of questions that they do not know how to answer. Answers are then furnished by other students, or qualified tutors that have been screened by the team.
---
Cabara is an Indonesian platform for families matching domestic helpers to families curate the list of domestic helpers, making sure that they meet the standards. Cabara is one of the startups that competed at Startup Arena Jakarta in 2012 and has recently received seed funding from Abu Dhabi-based Bin Awas General Services to continue developing the business in Indonesia.
---
China's Zapya makes it easy for people to share files, peer-to-peer, over wi-fi so long as everyone involved has Zapya installed. Requiring no uploads or downloads (and, technically, no actual web connection), it claims to be faster and more reliable than using cloud storage, and less finicky than using Bluetooth or NFC for file-sharing. It secured series B funding from IDG to help grow the business both in China and overseas.
---
Japanese 3D printing service Kabuku has announced a series A funding led by CyberAgent Ventures. The company, founded in January 2013, operates Rinkak – an online marketplace where users can buy and sell 3D-printed products.
The Rinkak marketplace gives artists and designers access to high-end 3D printers and eliminates the need for them to maintain stock on-site. Aside from the typical plastic printing material used by many 3D printers, Rinkak can also process orders using ceramics, metals, and rubber. It also encourages collaboration between users to create truly unique products.
---
Mini Hug helps parents to keep track of the number of hours and the kinds of activities parents and their children engage in. Based on the amount and quality of engagement they have with their young ones, parents will gain reward points accordingly.
---
iCarsclub is an online marketplace that allows car owners to monetize their "free" car time through its car sharing scheme. This week, the company revealed to have secured series A funding led by Sequoia Capital China, Crystal Stream Capital, Wang Xing (the CEO of daily deals site Meituan), Zhuang Chenchao (CEO of travel booking site Qunar), and Huang Mingming (Future Capital).
---
Philippines-based consumer rewards startup ZAP offers discounts and cashbacks to consumers in the Philippines. The company announced that it has secured funding from Siemer Ventures, Seawood Capital, existing investor Kickstart Ventures, and other local angels.
---
Mogujie is a Chinese Pinterest-lookalike and ecommerce referral site that has just raised a US$200 million round of fundingled by Goldman Sachs' Magnolia Fund followed by Zhixin Capital, Qiming Ventures, IDG, and Banyan Fund. The company stated it will use the money to enhance customer experience, develop its team, and create an open-source community to support its ecosystem.
---
Launched in December 2013, Singapore-based Sova provides webmasters using WordPress with dedicated cloud hosting services. The startup has recently raised about $3 million in seed funding from undisclosed investors.
---
Bilin is a dating app from China that lets you call and chat with total strangers in your area via online calls. This week, the startup revealed that it has secured series A funding from Qiming Venture Partners and Morningside Ventures.
---
Singapore-based payments startup Fastacash lets people send money to friends and family over popular social networks. It provides accounts both to consumers and companies, where virtual goods, music, and images can also be transferred through its platform.
The startup has recently raised funding from Jagdish Chanrai, principal at the Kewalram Chanrai Group and Golden Orile Investments, along with prior investors Jungle Ventures, Spring SEEDS Capital, and Funding the Future.
---
Startup lists
---
Related startup stories
---
We're gearing up to bring you yet another round of our signature conference series with Startup Asia Tokyo 2014, happening 3 – 4 September 2014.
If you're an entrepreneur, investor, developer or just someone looking to meet and learn from the speakers and companies, get your tickets now. From now till July 3 2014, enjoy 20% off conference passes with discount code 'earlybird'.
Read here for tips on where to eat, sleep, and stay while you are in town for Startup Asia Tokyo.
See you there!
---
Like RSS? There's always our Asia startups RSS feed!