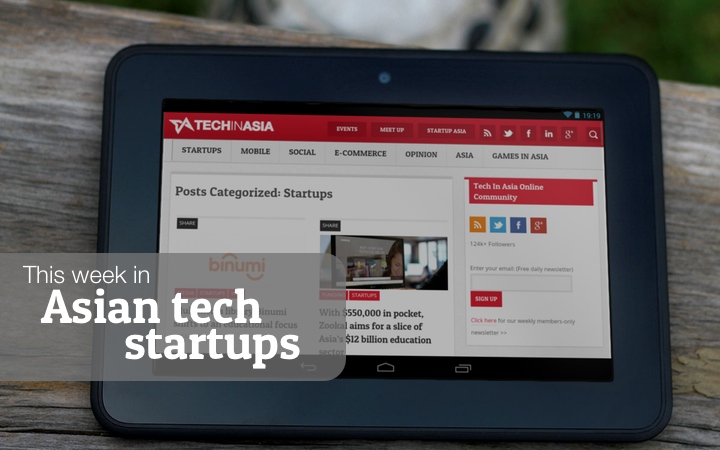 Here's our newest round-up of the featured startups on our site this week. If you have startup tips or story suggestions, feel free to email us or tell us about your startup on this form. Any juicy tech news tips go here. Enjoy this week's list!
Nanoleaf, a new generation light bulb maker backed by Hong Kong billionaire Li Ka-Shing's venture capital firm, has released a new product: a light bulb that dims without a dimmer switch. It promises to be the world's most energy-efficient, inviting comparisons to the G7 Power Vintage.
---
Taipei-based Jink hopes their new app will alleviate your waiting-in-the-cafe woes. If you're looking to meet a friend, retrieve their number from your phone's contact list and they'll appear as an icon on a map. You and your friend can then message each other, and the icons will move in real-time as each person walks towards the destination.
---
SocialCops, a data technology startup based in India, is building a tool that will allow policy-makers, researchers, and journalists to collect, analyze, and visualize data about some of the most daunting social and governance issues in India. For that, it has just raised seed funding from 500 Startups, as well as individual investors Rajan Anandan, managing director of Google India, and Manoj Menon, managing director of Frost & Sullivan APAC.
---
Taamkru hopes to change education through its web and mobile apps, giving pre-schoolers a fun, gamified way to prepare for examinations in a manner that black-and-white paper workbooks can't. Its platform also lets parents track their child's performance and benchmark it against other kids in the nation. The startup received seed funding from Silicon Valley fund and accelerator 500 Startups. M&S Partners, IMJ Investment Partners, Ookbee, and Red Dot Ventures also invested this time.
---
To be launched this October, travel platform Jetbay will have local travel and event listings, in English, at local prices for visitors to China. It is also the first mainland China-based startup to get accepted into US-based accelerator 500 Startups, and part of the 500 Startups Batch 9, which is made up of about 30 startups from around the world.
---
Japan's Sciement is a combination of science and entertainment. At its inception, the company was focused on creating easy-to-comprehend 3D animations. Now, Sciement also creates medical legal animations which can be used during criminal trials to visually explain trauma inflicted on a victim. Initially bootstrapped with the founder's own savings, the startup has raised approximately US$98,000 from private investors.
---
Headquartered in London, ed-tech company Quipper has only been in the country since January this year yet has already got good traction. They've partnered with the Philippine Department of Education to provide Quipper School – their online platform full of grade-aligned curriculum from kindergarten through twelfth grade – to schools in one of the major cities that makes up Metro Manila.
---
Cloud telephony company Knowlarity's enables businesses to virtualize their phone systems by providing a scalable phone platform that can handle over a million calls an hour. The company arms startups and small businesses with toll-free numbers, helps them manage business leads, coordinate sales teams across centers, and offers facilities like call-routing, call recording, and voicemail. The company has secured series B funding from Sequoia Capital and Mayfield.
---
Launched in January this year, BuyBitcoin.ph is a buy and sell site for the cyptocurrency in the Philippines. It allows users to buy Bitcoin by depositing cash at any one of the major banks in the Philippines. For those who want to sell Bitcoin, the BuyBitcoin team deposits the going rate in cash into their bank accounts.
---
Japan's Snapeee is the photo sharing app run by Mind Palette which allows users to decorate photos and then share the new pics via social media. The company announced that it has closed a US$4 million round from venture capital firm Global Brain, publishing giant Kodansha, and clean energy firm Energy and Environment Investment.
---
Related startup stories
---
We're gearing up to bring you yet another round of our signature conference series with Startup Asia Tokyo 2014, happening 3 – 4 September 2014.
If you're an entrepreneur, investor, developer or just someone looking to meet and learn from the speakers and companies, get your tickets now.
From now till August 8 2014, enjoy 15% off conference passes with discount code 'earlybird'.
Read here for tips on where to eat, sleep, and stay while you are in town for Startup Asia Tokyo.
See you there!
---
Like RSS? There's always our Asia startups RSS feed!