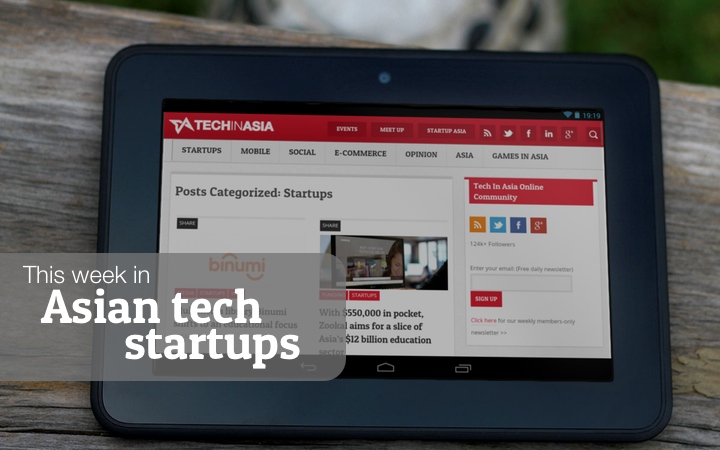 Here's our newest round-up of the featured startups on our site this week. If you have startup tips or story suggestions, feel free to email us or tell us about your startup on this form. Any juicy tech news tips go here. Enjoy this week's list!
Gunosy is a popular Japanese news reader app that aims to help user digest all of the day's news in three minutes, with a main revenue stream coming from display advertisements. The startup announced that it has closed a fresh funding round from KDDI this week – following a US$12 million funding round from the same telco in March. JAFCO and B Dash Ventures also joined KDDI for the latest investment.
---
Indonesia's Berry Kitchen makes lunch boxes and bento meals, typically for office workers. It does the whole thing – it deals with suppliers, makes the food, does the packaging, and then delivers the food to clients. The startup recently received an undisclosed amount of seed funding from East Ventures
---
SoundFordge is a Japanese site for musicians to not only virtually test guitar pedals, but is also an ecommerce platform that will recommend the best price for buying said pedal new or used.
---
Pakistan's Flashcall provides brands with a toll-free number that allows them to communicate with customers via missed calls, sending back SMS to people containing more information. At this early stage, the startup is using its own cash but has talked with a number of investors.
---
Created by the founders of Beeconomic, known as Groupon Singapore, GoFresh is a Singapore-based online groceries platform provides high quality, nutritious, and premium products with all their fresh produce sourced directly from farmers and fishermen from all around the world. It also offers next-day delivery free of charge.
---
Akippa is an Osaka-based parking space reservation app that has recently secured a funding round from DeNA. Though the terms of this funding round were not announced, Akippa's previous round, led by noted private equity firm JAFCO, was for over US$650,000.
---
Predictry is a product recommendation engine from Malaysia that gives small retailers Amazon-like predictive powers. The startup raised seed funding from the Malaysian Development Corporation's (MDeC) Big Data Product and Commercialization Fund previously.
---
Founded in 2010, Twitcasting is a mobile app for streaming and watching live videos in real-time. The startup announced a series A funding round that will be used to increase the live-streaming platform's presence outside of Japan. The investment was led by Indonesia's Sinar Mas, marking the first time that a non-Japanese VC has invested in the company. Seed investor East Ventures also contributed.
---
Started in 2011, Unfollowers is a follower tracking service for Twitter, Facebook, and Instagram that is currently boasting over ten million accounts along with monthly engagement from six million unique users.
---
Launched in 2006, Zameen is an online property website that is now up against many classifieds sites like OLX Pakistan and the brand-new Dekho.com.pk. But Zameen's biggest challenger is a dedicated property site of the same genus – Rocket Internet's Lamudi. . Last month Zameen secured an undisclosed amount of funding from Singapore's Catcha Group and Malaysia-based Frontier Digital Ventures that gives the new investors a collective 30 percent stake.
---
Just fresh out of beta testing, Thailand-based Fliplingo is a human-powered Twitter translation service which outsources its linguistic sorcery to Gengo, a Japan-based startup of crowdsourced translation work. The startup revealed that it has accrued seed funding, contributed by its own team members, to help it grow.
---
Founded in 2007, Sansan is a Japanese startup that specializes in scanning and storing business card details. For each, users simply download an app and take photos of the cards they receive. Sansan clients also have the option of renting scanners, for about US$100 a month, that can scan 30 two-sided cards per minute. The startup recently received series B funding, led by Silicon Valley-based investment firm DCM.
---
EasyUni is a Malaysia-based online higher education portal with listings from 27 countries, making up about 2,000 universities and 70,000 courses. Last year, the startup closed series A funding round led by Teak Capital.
---
Helpshift, an Indian startup that pioneered customer support in mobile apps, has raised series A funding led by Intel Capital. Visionnaire Ventures, True Ventures and Nexus Venture Partners also joined the latest investment round. The startup came up with a software development kit (SDK) to embed customer relationship management (CRM) within mobile apps. Flipboard, WordPress, and Flipkart are among hundreds of Helpshift clients, including gaming apps like Supercell.
---
Japanese startup Whill makes an electric-powered personal mobility device for easy travel across multiple surfaces (including grass and gravel) and omni-directional front wheels that allow for a tight turning radius. It can safely climb 10-degree inclines and has a range of up to 20 kilometers on a single charge. Despite raising funds worth millions from a variety of investors since last July, the company launched a Kickstarter campaign with the goal of generating buzz in the US market.
---
First started as an online directory, Wedding.com.my plays a middleman role between vendors and the 300,000 or so soon-to-be-married couples who tie the knot in Malaysia each year. Users get to browse the site for free, and the startup monetize through subscription fees paid by the merchants.
---
RumahDijual is a website for property agents and home owners to sell their properties – houses, land, apartments – in many big cities throughout Indonesia. According to SimilarWeb's estimates, RumahDijual generates more traffic than its two competitors: PropertyGuru's Rumah and iProperty's Rumah123, which the founder credits it to the website's own SEO-friendly domain name.
---
Related startup stories
---
We're gearing up to bring you yet another round of our signature conference series with Startup Asia Tokyo 2014, happening 3 – 4 September 2014. If you're an entrepreneur, investor, developer or just someone looking to meet and learn from the speakers and companies, get your tickets now.
From now till July 3 2014, enjoy 20% off conference passes with discount code 'earlybird'.
Read here for tips on where to eat, sleep, and stay while you are in town for Startup Asia Tokyo.
See you there!
---
Like RSS? There's always our Asia startups RSS feed!