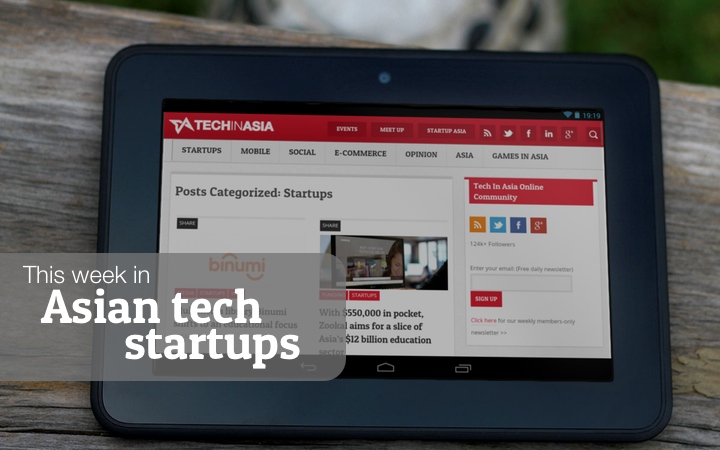 Here's our newest round-up of the featured startups on our site this week. If you have startup tips or story suggestions, feel free to email us or tell us about your startup on this form. Any juicy tech news tips go here. Enjoy this week's list!
Rong360 is a financial product search and comparison engine that lets users search and compare savings funds, mortgages, normal loans, P2P loans, credit cards, and more, aggregating the latest information possible from a wide range of sources. The startup just received a series C round of funding led by Pavillion Capital, followed by Sequoia, Lightspeed, and KPCB
---
Bistro is a hardware startup from Taiwan that developed a cat feeder which uses cat facial recognition. Each time a cat steps on to the scale to duck its head in for a quick bite, Bistro measures the cat's weight and its food intake. If you've got multiple cats, Bistro will automatically recognize the cat's face to ensure that its measurements correspond to the correct cat. All the data goes straight to an iPhone app.
---
Online service Edaixi is an app-connected laundry service made by laundromat chain Rongchang, and serves like an Uber for laundry. The company charges a flat rate per each of its custom laundry bags, whereas most of its competitors only charge per piece of clothing. A courier will arrive to pick up the customer's laundry and bring it back clean and fresh within 72 hours. The company has just received a series A round of funding from China's biggest internet company Tencent.
---
Zenius is a web-based learning platform launched in 2007. Initially run as an offline business, Zenius aims to promote critical thinking and scientific knowledge as an affordable way to improve the quality of education in Indonesia. As an e-learning site, Zenius provides educational videos and exercises for elementary to senior high school students. Besides all the online content, Zenius also has an offline learning center called Zenius-X, which sells educational CDs, DVDs, and other products.
---
Singapore startup Digify is creating a Snapchat for documents, specifically, images, PDFs, and Microsoft Office files. In theory, it allows users to send secret documents to recipients without worrying that they will make unauthorized copies. It has previously raised funding from Red Dot Ventures, and TECS, a Singapore government grant.
---
Kallfly targets the call centers themselves. Implicit in its business model is the idea that the current BPO system is needlessly inefficient for both companies abroad and call center agents locally. Foreign companies do not need to commit to large, long-term contracts with huge brick-and-mortar BPOs. Call center agents can instead work through the Kallfly platform, which will allow them to freelance for business owners in need of on-demand call center services.
---
Sydney-based Canva is a site full of online tools for creating graphics and designs, aimed at marketers, bloggers, freelancers, and small business owners. It has a mix of free and premium elements and the option for online collaboration between several people. The startup recently announced it has raised US$3.6 million in funding.
---
South Korea's Naldo is similar to other last-mile logistics startups sprouting up around the globe, including Gogovan and Easyvan in Hong Kong, with a few key differences. Rather than vans, though, most of Naldo's drivers use two-wheeled transportation, which encounter far fewer issues with traffic, and promises delivery to be within 90 minutes.
---
Infant care online retailer Miyabaobei has just series B funding from Sequoia Capital. The company originally opened its shop on Taobao, China's biggest online shopping marketplace. By 2013, it started its own ecommerce store which solves a major pain point that customers have when buying baby products on Taobao. Much of the store's items come from overseas because Chinese parents often distrust local brands, especially for items like infant formula. Taobao doesn't exactly maintain the strongest reputation for selling genuine goods, so a separate estore seems more trustworthy.
---
Grabit is unlike your average daily deals app, and it aims to avoid the horror stories so frequently associated with Groupon and other like-minded companies. Grabit's mobile deal alerts, sent via push notification, must be within walking distance of the user. The startup hopes to protect retail clients (dining establishments specifically) by allowing them to set up deals at very specific times. They can also turn a deal off if they start feeling overwhelmed.
---
Startup lists
---
Related startup stories
---
We're gearing up to bring you yet another round of our signature conference series with Startup Asia Tokyo 2014, happening 3 – 4 September 2014.
If you're an entrepreneur, investor, developer or just someone looking to meet and learn from the speakers and companies, get your tickets now.
From now till August 8 2014, enjoy 15% off conference passes with discount code 'earlybird'.
Read here for tips on where to eat, sleep, and stay while you are in town for Startup Asia Tokyo.
See you there!
---
Like RSS? There's always our Asia startups RSS feed!