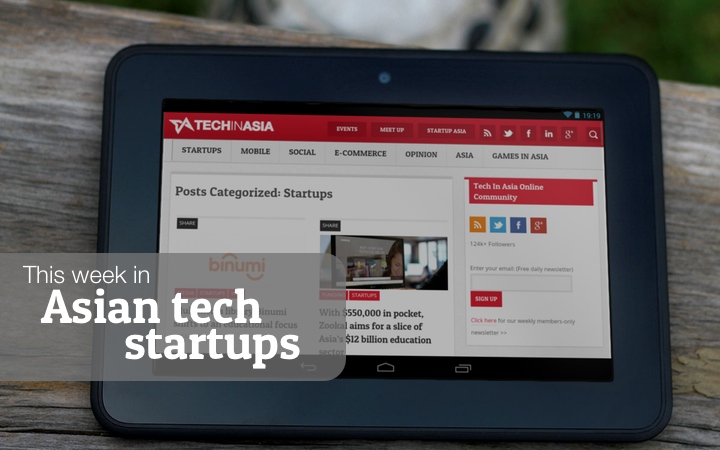 Here's our newest round-up of the featured startups on our site this week. If you have startup tips or story suggestions, feel free to email us or tell us about your startup on this form. Any juicy tech news tips go here. Enjoy this week's list!
Founded in December 2012, BASE is a Tokyo-based startup that aims to help anyone to create an e-commerce website within 30 seconds at no cost. Despite having no revenue, BASE currently has over 60,000 shops using its platform, and has so far raised $2.73 million from PartyFactory, CyberAgent Ventures, Suneight, and East Ventures to finance its growth.
---
First launched in March 2013, InstaB is a mix of Instagram and Path for chronicling your baby's everyday activities. The startup has previously eceived an undisclosed amount of funding from Malaysia-based accelerator 1337 Ventures.
InstaB is now working on launching a physical photobook service called BabyMag that gives parents the chance to make old-school albums out of their app entries.
---
Bangalore-based CommonFloor doesn't just have new property listings and reviews but also incorporates a platform for residential community management. It's all free to use for regular folks, and so CommonFloor monetizes from listings, the community platform, marketing, and advertising from the condo makers.
Six months after raising a round from Accel Partners and Tiger Global Management, the startup has raised another series D funding.
---
Founded in July 2013, Korbit is South Korea's largest Bitcoin exchange that lets users deposit funds from their bank accounts and buy, sell, and withdraw bitcoins.
This week, the startup announced that it has received seed funding from several prominent Silicon Valley investors including Tim Draper (formerly of DFJ and founder of startup school Draper University), Naval Ravikant (founder of AngelList), David Lee (founder of SV Angel), and Barry Silbert (founder of SecondMarket and Bitcoin advocate).
---
Started by an eight-months old startup Collisionable Networks, New Delhi Hashtaag is designed to assist startups, creative people, innovators, and individuals by getting crowdsourced help in evaluating your startup idea. The theory is that all those ideas and that extra input will reduce business risks and help you avoid very early-stage obstacles.
The company's team graduated from the six-week long T2MA program (technology to market accelerator) last October, which is run by Intel and UC Berkeley.
---
Founded in August 2011, Ticketstreet is a Tokyo-based secondary online marketplace that allows folks to buy and sell concert and sports event tickets. For every ticket sold, Ticketstreet takes eight percent from the seller and if buyers choose the 'Anshin plus' protection, they'd charge another 10 percent of the ticket price from the buyer.
The startup raised a seed round from Masahiko Honma's Incubate Fund in May 2012 and a Series A round from Mitsubishi UFJ Capital, Mizuho Capital in March 2013.
---
Taamkru, a Thailand-based startup backed by telco-owned venture capital firm True Incube, is taking it to the next level by creating an app to test preschoolers and rank them against their peers and is aimed at improving a kindergartener's learning efficiency. Just three months after its launch, Taamkru was number one for the Kids and Education App category in Thailand's iOS App Store.
---
QFPay, maker of a Square-like gadget for taking e-payments via a smartphone from China , has announced that it secured series B funding worth millions this week. The startup currently claims to have 110,000 businesses using its gadget right now.
---
Made up of Japanese founders, Kuala Lumpur-based Cream aims to become the "Waze for real-time pricing data." Using the app is simple: snap a picture of a product, enter the price listed in the shop, and let Cream's community tell you if you are getting a good deal.
Together with its launch on Google Play this week, the startup also revealed that it has received an undisclosed amount of seed investment from CyberAgent Ventures.
---
Singapore-based online grocery service, RedMart announced this week, the closing of its oversubscribed bridge round led by Facebook co-founder Eduardo Saverin, PropertyGuru founders Steve Melhuish and Jani Rautianen, JFDI co-founder Meng Weng Wong, restaurateur Wee Teng Wen, and Lion Rock Capital.
---
Indonesia's e-reader Scoop announced this week that it has launched its own video curation app on iPad called Scoop Vee, which promoted Indonesian content. Scoop Vee can also learn user behavior and recommend related videos based on it. An Android version is slated to be released soon.
---
Singapore and Indonesia-based mobile social networking company mig33 announced this week that it is now listed on the Australian Securities Exchange (ASX), the country's primary stock exchange.
---
Pie is an enterprise software startup that wants to change the way people share media content at work. It's a focal point for companies to consolidate their knowledge and generate ideas and inspiration – kind of like a Pinterest for enterprises. Marketing and advertising creatives have taken a liking to the app.
---
Tokyo Otaku Mode was founded in March 2011 as a Facebook page by a bunch of otaku founders — basically folks who are obsessed in manga, anime, and its culture. In April 2012, Tokyo Otaku Mode was incorporated and was part of Dave McClure's 500 Startups incubation program, starting as an online media company that reported about otaku news in English, and has since launched an e-commerce site to sell otaku goods online.
Tokyo Otaku Mode is invested by 500 Startups, YJ Capital (investment subsidiary of Yahoo! Japan), DG Incubation (investment subsidiary of Digital Garage), and ITOCHU Technology Ventures (investment subsidiary of ITOCHU Group).
---
Taiwan's Haoshi Ditu (which roughly translates to "Good Deed Map") helps users locate the nearest street food stalls. It also provides brief tidbits of information about the vendors.
---
Founded in 2010, Twitcasting is a mobile app for streaming and watching live videos in real-time. Today, Twitcasting has over four million users with most of them originating from Japan or Brazil with 50 percent of Twitcasting users being weekly active users.
The company raised a round from East Ventures in mid-2013 and another at the end of 2013, again from East Ventures and other angels.
---
Startup lists
---
Related startup stories
---
We're gearing up to bring you yet another round of our signature conference series with Startup Asia Singapore 2014, happening May 7-8 right in the heart of Biopolis, Singapore's deep tech research center.
Founders, if you're interested in competing in the Startup Arena, fill this up. If you're an entrepreneur, investor, developer or just someone looking to meet and learn from the speakers and companies, get your tickets now.
---
Like RSS? There's always our Asia startups RSS feed!