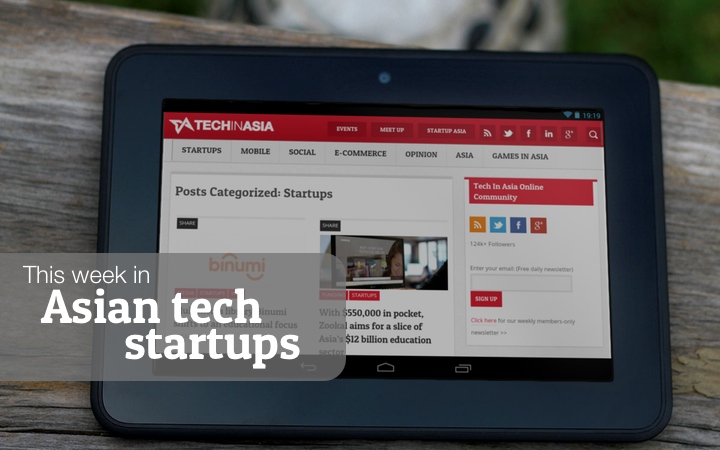 Here's our newest round-up of the featured startups on our site this week. If you have startup tips or story suggestions, feel free to email us or tell us about your startup on this form. Any juicy tech news tips go here. Enjoy this week's list!
Hong Kong startup SplitMedia Labs is the developer of two different livestream software, XSplit for individuals and organizations to publish live video streaming through platforms such as UStream or to make recordings to share online, and XSplit Broadcaster, which allows switching between multiple video scenes for television-like production techniques.
Recently, the startup expanded to come out with XSplit Gamecaster, a similar application built for gamers so they can broadcast and record gameplay.
---
Singapore-based fashion company Lift12 has aspirations beyond being a label: it wants to be the 21st Century version of Zara. The startup's women and menswear brands has a lot of their design decisions are made with the help of data, which technically is a fashion brand built from the ground up to run like an internet company.
---
Made by Seoul-based Covworks, Tidy is an app which organises your photos by helping you filter and find your photos by date, location, image type, or size. Then you can choose to make those into sleekly attractive albums.
---
Bangalore-based startup Ezetap makes a Square-esque gadget that attaches to a smartphone and allows retailers and merchants to process credit card transactions on their phones.
This week, the startup revealed that it has raised series B funding led by Helion Advisors. Silicon Valley-based Social+Captial Partnership and Berggruen also contributed to the investment.
---
Launched last month, Indonesia's ETCLO is a premium online store that sells clothes, shoes, and bags for both men and women. The company currently houses over 30 local and international fashion brands.
---
Blued, a Grindr-style gay chat and hook-up app for Chinese guys, has announced that it secured series A funding recently to help it hire new staff and grow its user-base.
---
Launched in September 2012, Hike is a mobile messaging app from India that has now grown to 15 million registered users. Hike has apps for iOS, Android, BlackBerry (old), and Nokia S40 and S60.
---
Bangalore-based Trip38 is an app that aims to be a sort of "travel companion" to users, which comes into play only after the consumer has purchased their tickets. By emailing your e-ticket to a designated address, the application is able to pull out the information it needs, such as flight status, transit options, destination information, and present it to the user.
---
Founded in Hong Kong in 2013, VenueHub is an online venue booking platform, which connects people with venue managers or owners. The startup also ventured into Thailand later that year. Right now, there are over 150 listed venues in Hong Kong and 50 in Thailand.
---
Launched last October, India-based Cynapse launched Phlo, an application that helps people access different search engines and websites all in one place.
---
Uniquedu is a China-based education company with a presence in Beijing, Silicon Valley, Miami, and Tokyo. It started as an offline company, then launched Kaikeba, Coursera-style online education portal, in August.
The company is revealed to have secured series A funding led by Fosun Venture Capital Investment, according to TechNode.
---
ViSenze, a Singapore-based startup provides visual search and visual image recognition for e-commerce and contextual advertising. The startup's technology is already being used by Rakuten Taiwan and Singapore startup Clozette – both e-commerce related companies – to power a visual search feature where user upload images to the engine to receive matches.
This week, the company announced that it has closed a Series A funding round led by Rakuten Ventures with participation from Walden International and UOB Venture Management.
---
Mercari is a mobile marketplace from Japan that allows users to sell their second-hand items. In 2013, the app was named the best iOS and Android shopping app in Japan.
---
Started in December 2010, Singapore's satirical news site New Nation has gained a bit of a reputation inside Indonesia's media circles since one of its articles became a major headline and topic of discussion among Indonesians last week.
---
Mig33, a mobile social networking platform headquartered in Singapore, has announced this week its acquisition of Alivenotdead.com, a site which connects artists with fans. Alivenotdead was founded in 2007 by a group of Hong Kong artists, including film star Daniel Wu, along with some of the co-founders of Rotten Tomatoes, a popular movie review site.
---
Smart Education is a Tokyo-based developer of educational mobile apps for kids which aims to guide parents on the appropriate usage of apps for infants, based on discussions with experts in the educational industry.
The startup announced that it has raised a funding round from CyberAgent's Fujita Fund and Infinity Venture Partners.
---
Startup lists
---
Related startup stories
---
We're gearing up to bring you yet another round of our signature conference series with Startup Asia Singapore 2014, happening May 7-8 right in the heart of Biopolis, Singapore's deep tech research center.
Founders, if you're interested in competing in the Startup Arena, fill this up. If you're an entrepreneur, investor, developer or just someone looking to meet and learn from the speakers and companies, get your tickets now. Enjoy a 20% Early Bird discount on your conference passes from now till 24 February 2014 by using this special promo code, EarlyBirdFeb.
---
Like RSS? There's always our Asia startups RSS feed!