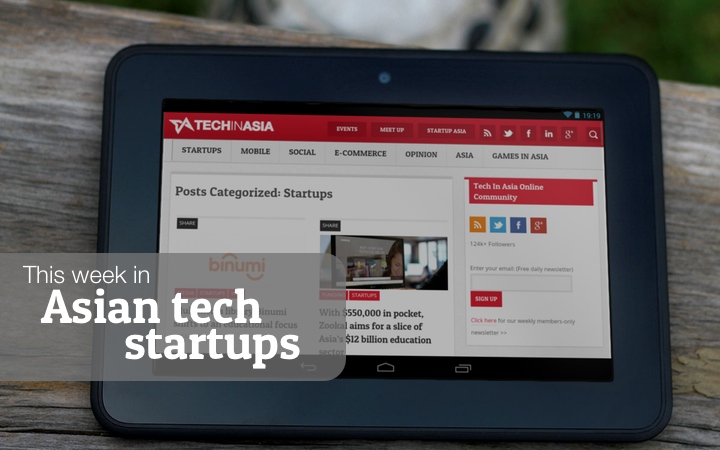 Here's our newest round-up of the featured startups on our site this week. If you have startup tips or story suggestions, feel free to email us or tell us about your startup on this form. Any juicy tech news tips go here. Enjoy this week's list!
Currently only serving Shanghai, 24tidy is a startup that does your laundry. The company recently raised a funding round of 'tens of millions" of RMB from the investment branch of Suzhou-based Oriza Holdings.
---
Developed by Singapore-based startup Healint, Migraine Buddy is a migraine tracking Android app that tries to understand what causes your headaches and how best to stop them from happening.
---
Glammap is a location-based bargain hunter app for women's apparel in China. It taps into the Baidu Maps API to let users who still prefer to shop for clothes in person aggregate the stores and deals nearest them. The startup has received RMB 1 million (US$161,000) in funding from undisclosed angel investors.
---
Airloyal, a young adtech startup developed a platform called Ladooo that incentivizes consumer attention. It uses mobile prepaid airtime as a reward to harness consumer attention, engagement, and action online. If consumers complete a specific app-related task, they get free airtime. And advertisers pay only if consumers complete that task.
---
Redmart is a Singapore-based e-commerce startup that sells necessities and groceries, and has them delivered right to your doorstep. This week, it was revealed that the company has raised a series B round led by Garena, with participation from Facebook co-founder Eduardo Saverin, SoftBank Ventures, and Visionnaire Venture
---
Started out as an online store on Facebook, Habi Footwear is a social enterprise that seeks to gainfully employ mothers from Kawan ni Sto. Niño in Old Balara and Saint Luigi Oriones Creations in Payatas, two of the poorest communities in Quezon City. The startup has grown from a largely B2C to a largely B2B operation, with resellers offering their shoes through both online and brick-and-mortar stores, all over the world.
---
Indonesia's Bareksa might be the country's first fully integrated investment portal, with tools and services featuring the most sophisticated items available for comparing stocks, bonds and mutual funds in Indonesia.
---
Launched last October, Beijing-based Yetang aggregates well-designed apparel, accessories, and knick-knacks from small businesses and designers, and centralizes them all onto a single website. The company just raised a seed round of under US$1 million from China's IDG Capital Partners.
---
Aihuishou is a Chinese electronics recycling startup which allows people to sell or recycle old laptops, phones, handheld game consoles, and tablets. They can sell for cash or store credit, buy refurbished devices, or trade in an older model for a new one. Couriers will pick up and deliver devices to users' doorsteps in Shanghai and Beijing, but users in other cities are responsible for their own shipping. The startup scored a series B round of funding this week led by the International Finance Corporation (IFC), followed by previous investor Morningside Ventures,
---
Chrends, is a mass chat room-style app that masks everyone's identities. There is no person-to-person, private messaging option on Chrends and the chat rooms themselves are created by users around hashtags. In summary, the app provides a public place for Brunei citizens to spout their mouths off about anything they want, with the comfort of anonymity and safety of impunity.
---
Singapore-headquartered, Bangalore-based startup Capillary Technologies has created a cloud-based service for offline retail stores to better engage customers. Services include a loyalty program engine that is integrated into a store's point-of-sales system. The startup has raised a series B round led by established Valley venture capital firms Sequoia Capital and Norwest Venture Partners.
---
Indian furniture etailer Urban Ladder recently came up with new 'wardrobe configurator' app which lets a customer who wants to buy a wardrobe configure it from scratch. Users can choose the size, color, and what they needs inside the wardrobe, like racks, shelves, hangers' space, and so on. The startup has just raised US$21 million from Hong Kong based Steadview Capital, as well as existing investors Kalaari Capital and Saif Partners.
---
Startup lists
---
Related startup stories
---
We're gearing up to bring you yet another round of our signature conference series with Startup Asia Tokyo 2014, happening 3 – 4 September 2014.
If you're an entrepreneur, investor, developer or just someone looking to meet and learn from the speakers and companies, get your tickets now.
From now till August 8 2014, enjoy 15% off conference passes with discount code 'earlybird'.
Read here for tips on where to eat, sleep, and stay while you are in town for Startup Asia Tokyo.
See you there!
---
Like RSS? There's always our Asia startups RSS feed!