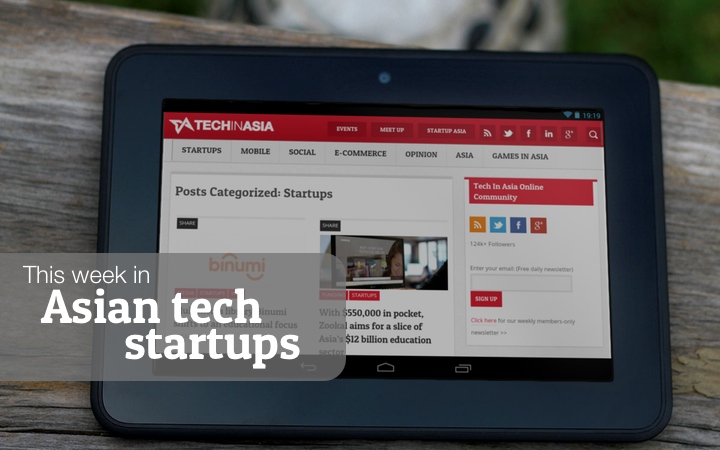 Here's our newest round-up of the featured startups on our site this week. If you have startup tips or story suggestions, feel free to email us or tell us about your startup on this form. Any juicy tech news tips go here. Enjoy this week's list!
Appota specializes in mobile content delivery through its platform. It is also a graduate of the Founder's Institute program based in Hanoi. The platform serves up apps via developers who use its SDK and then delivers the content and apps to customers who download its third party app store. The company has just raised an undisclosed series B funding with two investors from Japan and Singapore.
---
Philippines Payroll Hero offers a unique service that helps companies keep track of employees using biometric facial recognition to ensure workers are at work when they should be. The startup announced that international doughnut and coffee brand Krispy Kreme will now be using PayrollHero to aid its team management.
---
Instead of catering only to consumers, SnapClip is video effects app developed by Singapore-based startup Basilo Labs. The app is designed as a marketing vehicle for brands. In essence, it will make money from selling premium video effects as well as branded content.
---
Started in 2009, Nanapi is Japan's largest lifehack media site that has 28 million visitors and generates over 60 million pageviews every month. In July last year, the company raised a funding round from Globis Capital and KDDI's Open Innovation Fund.
---
Dineout is an online restaurant booking startup that was recently acquired by Times Internet, the online subsidiary of The Times of India Group, to merge with TimesCity, a web portal for restaurant and venue reviews and listings.
---
Founded in 2010, Geniee is an ad tech startup, with its real-time bidding (RTB) ad network serving up to 20 to 30 billion impressions per month. The company claims to be the leading ad network in Japan and has already started to explore markets overseas.
In 2011, Geniee raised a funding round from Global Brain and in 2012 raised another from GREE Ventures. Last year, it raised an undisclosed sum from Yahoo Japan, Transcosmos, and OPT.
---
Unlike general 3D printing services, South Korea's JewelDistrict focuses solely on making jewelry. To have a piece personalized, users can upload their 3D designs on the website and choose if they want to have it made in silver or brass material. There are even other options in terms of surface finishes, plating, and stone setting options.
---
Founded in July 2012, freee aims to make bookkeeping and accounting quick and easy. It is built on the cloud and is accessible via any web browser. Freee also helps small businesses generate tax reports in a few clicks for tax submissions to authorities. Automation is made possible because freee is integrated with over 1,600 banks in Japan.
---
Yatra is an online travel site which recently raised a funding round led by IDG Ventures, Vertex Ventures, along with its seed investor Norwest Venture Partners. The company also acquired smaller startups, such as Travelguru back in 2012.
---
Sydney-based Canva is an online tool that makes creating graphics super easy. The startup raised US$3 million from Australian and US investors last March before launching the product, which is rare given the discouraging investment scene Down Under.
This week, the company announced that Apple's former chief evangelist Guy Kawasaki has finished his contract with Motorola and Google, and has joined the team full-time in the same role he performed at Apple. Kawasaki has also invested an undisclosed sum in the company
---
Singapore-based startup IMGembed provides tool for publishers to use embeddable content, and for image owners to track the use of their photos as well as set permissions and pricing on their images. To date, they have served more than 14 million embeds, with big-time publishers such as Huffington Post and FashionTV using their images
---
Founded in March 2011 as a Facebook page, Tokyo Otaku Mode is an anime fan-site turned ecommerce portal that has recently got its hands on series A funding led by previous investor Itochu Technogy Ventures, with 500 Startups throwing in some cash alongside Mitsubishi UFJ Capital, Sun Eight Investment, and GaiaX Global Marketing Ventures. US-based 500 Startups has contributed seed-stage funding in the past to Tokyo Otaku Mode.
---
Launched last November, Medix, a cloud-based clinic management service helps to make record-keeping more seamless. It allows dentists to keep their patients' details and dental history online. It also gives dentists the capability to upload digital before-and-after images of their patients for future reference. The web dashboard also shows a dentist's upcoming appointments.
---
Hong Kong's Nanoleaf's LED bulb is a geeky origami project – its body is made of folded silicon instead of glass. The company successfully raised a round in a crowdfunding campaign, which was more than ten times their goal. After the campaign, Nanoleaf received an undisclosed amount from Horizon Ventures, a venture capital firm owned by Asia's richest man, Li Ka-Shing.
---
India's ParallelDots is able to scrape a website's archives to automate the TimelineJS process, which means end users never have to so much as glance at a spreadsheet, streamlining the entire process.
---
Startup lists
---
Related startup stories
---
We're gearing up to bring you yet another round of our signature conference series with Startup Asia Singapore 2014, happening May 7-8 right in the heart of Biopolis, Singapore's deep tech research center.
Founders, if you're interested in competing in the Startup Arena, fill this up. If you're an entrepreneur, investor, developer or just someone looking to meet and learn from the speakers and companies, get your tickets now. Enjoy a 10% Early Bird discount on your conference passes from now till 24 April 2014 by using this special promo code, EarlyBirdApril.
---
Like RSS? There's always our Asia startups RSS feed!