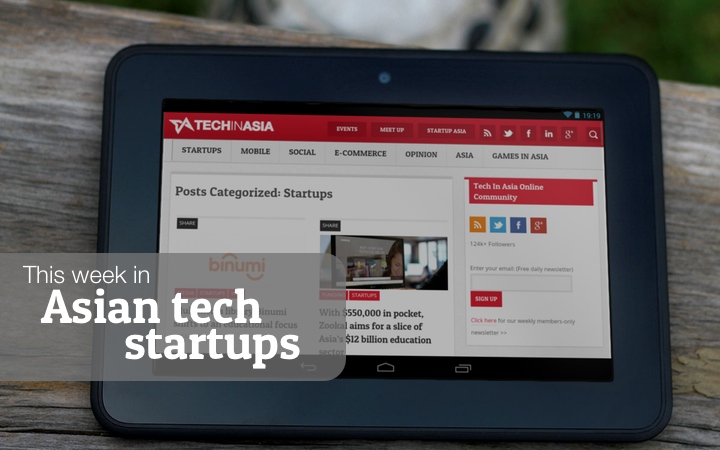 Here's our newest round-up of the featured startups on our site this week. If you have startup tips or story suggestions, feel free to email us or tell us about your startup on this form. Any juicy tech news tips go here. Enjoy this week's list!
Sribu is a design crowdsourcing marketplace from Indonesia which has currently 37,000 designers who have produced over 245,000 design portfolios for more than 1,000 paying clients.
The startup revealed this week that it has raised a series A round investment from a publicly listed company in Japan called Infoteria Corporation.
---
First launched in April 2013, HipVan is a design-oriented e-commerce startup with presences in both Singapore and Malaysia. This week, it was announced that Skype co-founder Toivo Annus has joined Singapore celebrity Jade Seah, tech entrepreneur Darius Cheung, and Singapore investment firm Silicon Straits as one of the investors. The amount invested is undisclosed.
---
Online food delivery service provider, FoodRunner announced that it has acquired City Delivery, a Philippine company which delivers restaurant food, groceries, flowers, and other items. The company hopes that its expansion-through-acquisition approach can give it an edge against the more well-funded FoodPanda.
---
Launched in January this year, Action Stack is an avenue for Filipino individuals – students and professionals alike – to gain more knowledge on tech entrepreneurship through workshops. It has gathered 21 mentors, a mix of startup founders and tech experts , who share their knowledge and experience with the tech community.
---
Mobvoi is a mobile voice search developer from China makes a service called Chumen Wenwen that was originally built on top of WeChat.
Users can ask it a question using the same voice chat function you would use to talk to a friend, and Chumen Wenwen will respond with a WeChat message containing the answer. If the app can't return the results directly, it will let you sift through search results from Baidu, 360 Search, or Google.
The company is revealed to have received series B funding led by SIG in addition to previous investors
---
From the same guys who brought you the Vietnamese home-cooked search engine Cốc Cốc and the ultimate all-in-one web browser for Windows, Cờ Rôm+, comes a new app that's Vietnam's clearest competitor to Google Maps and Apple Maps. Called Nhà Nhà, it's built and designed with the sole purpose of being your ideal travel companion.
---
A Philippine social night life app Guestlist is proving that there's a technology gap to be bridged when it comes to clubbing. The app allows people to have their name on a club's guest list with less hassle, taking away the burdensome process of falling in line or hunting for someone who can let the party-goers get into a club.
---
Launched three months ago, Moovz connects gay men – it focuses on just men – around the world. Users are able to meet new people using a variety of filter tools such as location or specific preferences. There's also messaging, webcams, and private chats for those participating in the invitation-only chatrooms.
---
Launched in April last year, ZipMatch is a Philippine real estate marketplace that helps property buyers choose from a curated selection of properties that can be filtered through different considerations such as location, cost, and property type, thereby lessening time spent searching and finding the right property.
The startup revealed this week that it has received an undisclosed amount of seed funding from a combined group of global and local investors led by IMJ Fenox, followed by 500 Startups, Ideaspace Foundation, and Hatchd Digital.
---
Astroscale is a Singapore-based startup with a grand mission: designing and operating 'sweeper' satellites that will remove space debris – consisting of defunct satellites and pieces of spacecraft – from Earth's orbit
---
Startup lists
---
Related startup stories
---
We're gearing up to bring you yet another round of our signature conference series with Startup Asia Singapore 2014, happening May 7-8 right in the heart of Biopolis, Singapore's deep tech research center.
Founders, if you're interested in competing in the Startup Arena, fill this up. If you're an entrepreneur, investor, developer or just someone looking to meet and learn from the speakers and companies, get your tickets now. Enjoy a 15% Early Bird discount on your conference passes from now till 24 March 2014 by using this special promo code, EarlyBirdMarch.
---
Like RSS? There's always our Asia startups RSS feed!