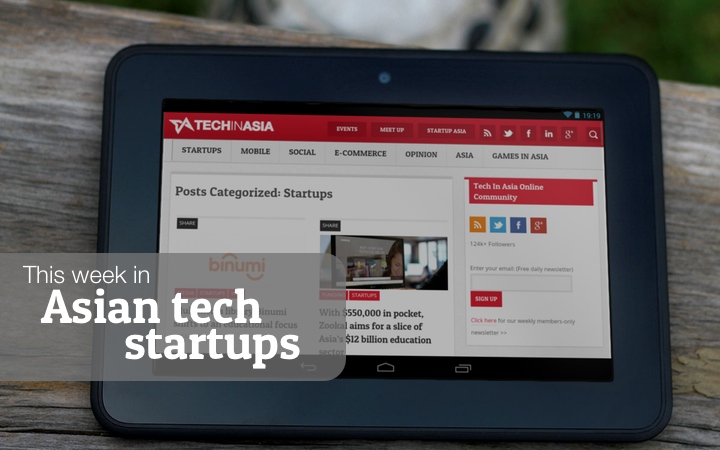 Here's our newest round-up of the featured startups on our site this week. If you have startup tips or story suggestions, feel free to email us or tell us about your startup on this form. Any juicy tech news tips go here. Enjoy this week's list!
Tokyo-based ClassDo allows people to share their knowledge without being hired by a school. Just 19 months after launch, the virtual classroom startup has captured users in more than 100 different countries – almost entirely based on word-of-mouth referrals. Instead of relying on Skype or another external service, ClassDo's lessons are all done in-browser without any downloads or installs. The interface offers a collaborative whiteboard, a video box, and a text chat box.
---
Enterprise chat app Maimai describes itself as a "work version of WeChat" and features individual and group chats, a news feed, and a referral system. Users can network and meet peers within two degrees of separation, as opposed to WeChat where users cannot see friends of friends. The company recently received series B funding from Morningside Ventures and IDG,
---
Started by ex-Amazonians, Gurgaon-based TargetingMantra has developed a tech tool that figures out what ecommerce consumers are interested in, and delivers personalized choices to them. The startup is part of Batch 9 of the 500 Startups accelerator program in Mountain View, California
---
LawCanvas is a web service that wants to save nascent entrepreneurs thousands of dollars when they most need it. It does this by helping small businesses create legal documents quickly and easily by providing a library of free legal templates tailored for Singapore, with a smart editor that they claim makes editing clauses a cinch. The team received funding from the MDA iJAM program and Crystal Horse Investments earlier this year.
---
Indonesia's Adskom, an advertising technology company that offers a programmatic advertising platform, has recently raised a round led by four VCs: Japan's Digital Garage, Singapore's East Ventures, as well as Indonesia's Beenos Plaza and Skystar Ventures. Adskom's supply-side platform (SSP) can help both publishers and ad networks in Indonesia manage digital ads automatically and efficiently. Adskom also offers digital ad service plans to help clients further.
---
Similar to Shopify, Hong-Kong based Shopline lets vendors design a storefront webpage, upload images of goods, receive orders, and manage payment transactions. Shopline tries to keep it simple by offering only a customized domain name, unlimited listings, and a few other perks to customers who pay NT$599 a month (about US$20).
---
Grain is like the Uber for wholesome food. Based in Singapore, it serves up ready-to-eat dishes to a taxi stand near to you, and it promises to do it on-demand. However, it only delivers within a certain area in the Singapore Central Business District for now. So if you're hungry but residing outside its delivery zone, tough luck.
---
GoGoVan is like Uber for cargo in urban areas. Users who need stuff moved can log on to the app, specify the pickup and drop off location, and summon a driver. GoGoVan will set base prices depending on the delivery route, which users then give to the driver in cash. The company revealed this week that it has raised US$6.5 million in funding. Centurion Investment Management led the round, with several unnamed Singapore-based angel investors participating.
---
LessonsGoWhere, which launched out of beta on July 30, offers an online marketplace where teachers and students can list, discover, and book offline lessons in Singapore.
---
Makeblock, a startup from Shenzhen, sells robotics kits for as little as US$120 and enterprise kits for up to US$500. Makeblock makes 200 different mechanical parts and growing, which can be programmed using either Arduino or Scratch – the latter is an MIT-developed drag-and-drop programming environment for kids to learn the fundamentals of coding. The company received an angel investment last year, and expects to secure its series A round in the next few months.
---
Kimono, operating out of Silicon Valley, offers technology which enables both developers and the technology-challenged alike to easily create APIs out of regular websites, thereby making data available for anyone. A Y Combinator graduate, Kimono's fast and easy method for data extraction attracted a lot of attention among data-crazy internet users, growing from zero to 20,000 users. Investors included Y Combinator VC, SV Angel, and the Winklevoss Capital.
---
VM5′s premiere product, AdPlay, virtualizes an app demo on both mobile and desktop browser to let users stream a demo of an app without even downloading a plugin. This is a powerful advertising tool for developers that's more effective than just showing screenshots or videos. The startup has just walked away with the top prize at the TechCrunch Beijing pitch competition. Update: This article originally said VM5 is from China. It is from Taiwan.
---
Stealth Messenger is a bit similar to WhatsApp in some aspects. Aside from being a chat app, it synchronizes the user ID with the user's phone number, allowing you to add your friends from phone book. Stealth also encrypts messages so no one can intercept and read it. The messenger doesn't save your messages in its servers either, so only individuals with the password can read the messages.
---
Related startup stories
---
We're gearing up to bring you yet another round of our signature conference series with Startup Asia Tokyo 2014, happening 3 – 4 September 2014. If you're an entrepreneur, investor, developer or just someone looking to meet and learn from the speakers and companies, get your tickets now.
From now till August 22 2014, enjoy 10% off conference passes with discount code 'latebird'.
Read here for tips on where to eat, sleep, and stay while you are in town for Startup Asia Tokyo.
See you there!
---
Like RSS? There's always our Asia startups RSS feed!