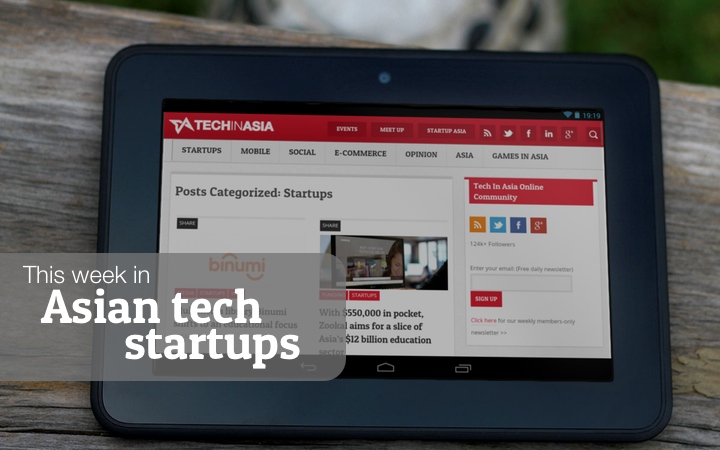 Here's our newest round-up of the featured startups on our site this week. If you have startup tips or story suggestions, feel free to email us or tell us about your startup on this form. Any juicy tech news tips go here. Enjoy this week's list!
Tokyo-based Synclogue is an app that allows Windows users to sync applications (and their respective settings) across multiple computers, and is officially launching an English version of its service this week. The app syncs Windows apps across multiple PCs without the user having to tweak settings each time they install.
---
Singapore-based Beacon-In is a service for retailers and brands to reach out to passersby via iBeacons. People don't need to have a specific app installed in order to receive alerts from nearby iBeacons, which is why some analysts say the tech could succeed where other things, like NFC or QR codes, have failed by being too tricky or annoying for most people to grasp.
---
Penang-based rich media mobile ad creator startup, MobileAds (previously known as RichMobileAds) has a received an undisclosed strategic investment from Seattle-headquartered HasOffers that is supposedly round to a series A. The whole concept of MobileAds is to turn the ad space into "mini websites within websites", so that visitors don't have to click their way out of their current websites to access the content. And the perk is that it's for entry-level advertisers, publishers, or bloggers who can't hire expensive agencies but still want to offer nice banners for their clients.
---
Founded last October, The French Cellar is a Singapore-based online subscription service for wine. Members have a choice of two top-notch French wines every month, which they can pick from a selection carefully curated by sommelier Nicolas Rebut, who was the former Chef Sommelier at two 3-star Michelin restaurants. Earlier this year, the startup undisclosed investment from Kyosei Ventures. Now, just three months later, ESW Manage has announced a seven-figure amount in series A funding to acquire a 20 percent stake in the company.
---
Founded in late 2010, India-based Freshdesk aims to provide the best customer support platform in the cloud, specifically for small and medium businesses (SMBs). The startup has raised a series D round of funding led by Tiger Global, which brings its total investment to US$44 million. Of particular interest is the participation of Google Capital – one of the two VC arms of the search giant.
This makes Freshdesk the first Indian company to get backing from Google Capital, which has only five other companies in its portfolio. Accel Partners also participated in this round.
---
Social Recruiting, a Tokyo-based startup that claims to be Japan's number one social recruiting service that utilizes social media to connect university graduates with more than 400 client companies. It boasts more than 200,000 annual users in Japan – equivalent to roughly a third of the country's annual university graduates. The startup revealed that it has received series A funding from domestic VC Global Brain.
---
Founded in June 2013, aCommerce is solving a major pain point in ecommerce logistics and backend fulfillment, and is helping to accelerate ecommerce market growth across Southeast Asia.
The Thailand-based ecommerce service provider has just closed its series A venture capital round of US$10.7 million. Organized by its founding investor, Ardent Capital, the round was led by Bangkok-based Inspire Ventures with participation from NTT Docomo, Sumitomo Corporation Equity Asia Limited, Sinar Mas Indonesia, Asia Pacific Digital, CyberAgent Ventures, JL Capital, strategic angel investors, and key executive staff.
---
Launched in January 2013, Soft Space's created a truly Asian solution for mobile payments and its core product is a mobile point of sale (mPOS) platform for card payments. This solution allows merchants to accept card payments through their mobile devices, at a price that is far cheaper than a traditional POS system would cost.
---
Launched in 2011, Zhihu is China's biggest question-and-answer-style knowledge base, and works very similar to the US-based Quora. It received a US$7 million series A round in October 2011 from Innovation Works and Qiming Ventures and at least one more undisclosed round.
---
Specializing in men's and women's clothing, accessories, and home decor, India flash sales startup FashionAndYou offers 15 new daily sales wherein users get the chance to buy items from top brands at discounted prices. The startup raised $10 million in funding from Sequoia Capital, Smile Group, Norwest Venture Partners, Intel Capital and Nokia Growth Partners.
---
Indonesian fashion ecommerce site Hijabenka, which officially hard launched last week, looks similar to its sister company – Berrybenka. Both have similar user interfaces and identical payment methods. Hijabenka's products all come from local stores, and sport a mix of local and foreign models on its product photos.
---
Startup lists
---
Related startup stories
---
We're gearing up to bring you yet another round of our signature conference series with Startup Asia Tokyo 2014, happening 3 – 4 September 2014.
If you're an entrepreneur, investor, developer or just someone looking to meet and learn from the speakers and companies, get your tickets now.
From now till July 3 2014, enjoy 20% off conference passes with discount code 'earlybird'.
Read here for tips on where to eat, sleep, and stay while you are in town for Startup Asia Tokyo.
See you there!
---
Like RSS? There's always our Asia startups RSS feed!