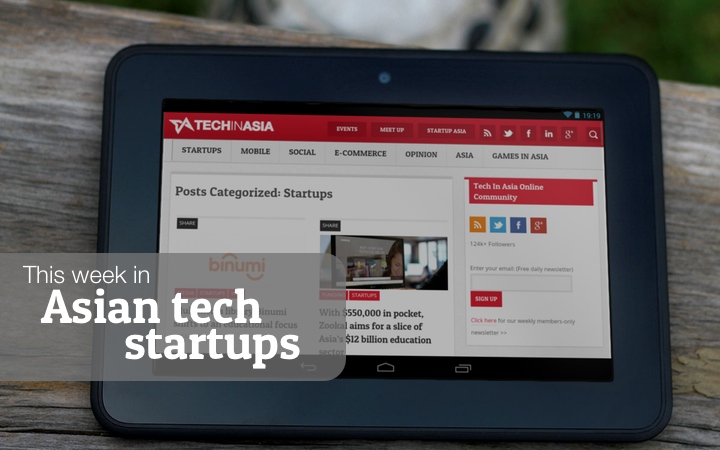 Here's our newest round-up of the featured startups on our site this week. If you have startup tips or story suggestions, feel free to email us or tell us about your startup on this form. Any juicy tech news tips go here. Enjoy this week's list!
SlideStory, developed by Japanese startup Nanameue, is an iPhone app that lets you create and share photo slideshows. The startup has now secured seed funding to help it grow.
---
India's SmartyRing is a neat bit of wearable tech in the form of a ring. It displays all your phone's notifications so that you don't have to keep pulling out your phone to check what's going on. It is proving to be very popular on Indiegogo, where the gadget has secured so many crowdfunding pledges that it is well beyond its goal.
---
Launched six weeks ago, Duriana is a mobile marketplace app that bears a striking resemblance to popular marketplace app Carousell. The startup is revealed to have raised a round of funding from e-commerce group Dealguru, the company behind Deal.com.sg).
---
UnMuted is a non-profit "voice-raising platform", which serves like an online virtual complaint box for reporting civic issues.
---
Launched back in 2011, Tack This helps merchants make e-commerce pages on Facebook (f-commerce) without the need to write code from scratch. The startup expanded into the Philippines this week by partnering with local telco Smart Communications.
---
Founded by two people who learned their trade at Rocket Internet, Setipe is arguably the first online matchmaking site in Indonesia that uses an algorithm to hook up two individuals. The startup officially started taking applications in October, and claims to have garnered close to 3,000 people on board with zero marketing costs.
---
Pickatale is like Spotify for children books. The iPad app aims to teach children new languages and expand their native tongue vocabulary while listening to their favorite stories.
---
Zivame is a specialist e-store that sells lady's sports clothing and bikinis in addition to lingerie. Along with its series A investment back in March 2012, the company has yet again secured another huge round from Unilazer Ventures, with some also coming from existing investors IDG Ventures and Kalaari Capital.
---
ThaiSpy can run completely undetected on iPhone, Android, and Blackberry, recording all data and audio communications, GPS locations, application usage, and web history. It's a smartphone app to track your significant others' activities.
---
Beijing-based Yodo1 co-produces and localizes foreign games for the Chinese market. More than just a translation service, the company alters graphics, music, and in-game items to help break through cultural barriers. The company announced this week that it closed a series B funding round.
---
Launched in 2012, Telunjuk is a price comparison site that provides e-commerce pricing info in real-time. This week, the startup revealed some impressive statistics showing the company's growth.
---
China-made fitness tracking bracelet Codoon looks very much like a clone of the Jawbone Up. The product is now finally available for pre-order in China and will ship to buyers at the end of this month.
---
Ayibang – which literally means "maid help" in Chinese – is a mobile app and online platform that connects people with local service providers, allowing you to mix and match temporary employees for things like regular cleaning, a heavy-duty cleaning of a new or rented apartment, and laundry. The startup revealed this week it has secured series A funding.
---
Media startup The News Lens aims to create unbiased and quality news, hoping to move Taiwan away from gutter journalism. It is revealed that the company received funding from two angel investors, both of whom are highly-regarded figures in the journalism industry.
---
Startup lists
---
Related startup stories
---
Click here for a full recap of our Startup Asia Jakarta 2013 conference.
---
Like RSS? There's always our Asia startups RSS feed!