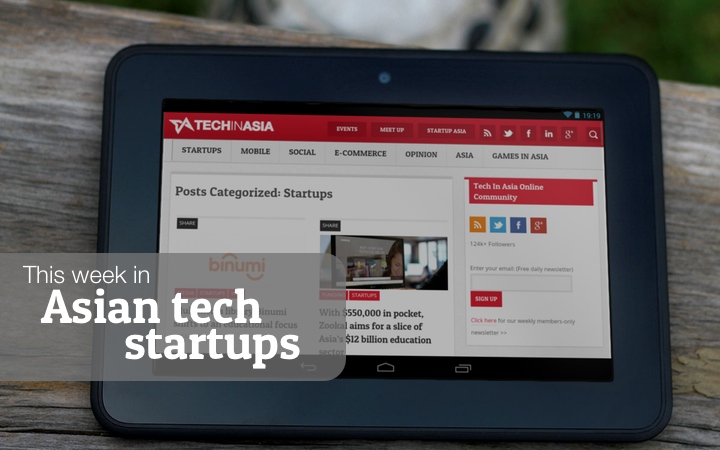 Here's our newest round-up of the featured startups on our site this week. If you have startup tips or story suggestions, feel free to email us or tell us about your startup on this form. Any juicy tech news tips go here. Enjoy this week's list!
Launched last month, Tolexo is an online marketplace from India which aims to be the go-to place for buyers of industrial and construction goods. Tolexo already has over 50,000 stock keeping units (SKUs) in seven categories like industrial safety and engineering tools. More than 100 sellers of such things have registered with it and the list is growing fast.
---
Goodpatch is a rising star in the competitive landscape of digital design firms. Specializing in websites, mobile sites, and smartphone applications, the startup receives clients looking to spruce up their user experience or user interface.
---
Jianshu is a Chinese minimalist writing and blogging environment reminiscent of Medium. The startup recently secured seed investment from undisclosed angel investors.
---
WaryBee is a safety wearable hardware startup that features a product which comes in the form of a necklace or bracelet, but the triggering device is hidden in a tiny pendant on the jewelry. Like a 'panic button', all that the victim needs to do is press it, and a signal will be sent to the phone of a person – or several people – of their choosing.
---
India's Pokkt (Pocket) has come up with a unique way to enable mobile payments in emerging markets, where credit card penetrations are low. The startup has created a marketplace for consumers to get apps, games, and other digital content without paying a single cent. Instead, they pay with their time by consuming content from some 100 advertisers, who pay to plug into the platform.
The company has just raised a series A round led by JAFCO Asia, a Singapore-headquartered venture capital firm, along with SingTel Innov8, Jungle Ventures, and serial entrepreneur Ganesh Krishnan.
---
TableApp is a Malaysia-based online restaurant booking site launched in June 2013. The startup is also working with Groupon Malaysia as a possible reservation platform partner to the latter's food deals.
---
LMBang is a Chinese social network for mothers which has recently secured series B funding to help it grow. This fresh funding comes 11 months after the startup got US$10 million in series A investment.
This social network is a space for women who just happen to be moms to discuss and share anything, including fashion, healthcare, images and links, and lifestyle tips. It's like a mix of Facebook, Pinterest, a portal dedicated to moms, and a women's health website.
---
Viibar, a Tokyo-based startup, is on a mission to liberate technical professionals from the stifling world of industrial video production. Founded in April 2013, the startup offers a crowdsourcing solution for animated or live action video production.
The startup was in Japanese incubator OnLab's seventh batch and the winner of the Best Team Award in October 2013. The win earned the company some extra attention and a cool US$3 million by the following February.
---
Launched in 2011, Olacabs currently covers taxis and private car fleets in nine Indian citIes. The startup has 9,000 vehicles in its network, and all the taxis and limos belong to third-party cab firms and livery operators.
The company has raised series C funding from Steadview Capital and Sequoia Capital besides existing investors Tiger Global and Matrix Partners India.
---
Fukuoka-based Nulab is a startup that makes cross-team collaboration platforms. It offers three main services: Cacoo, a collaborative diagram creator; Backlog, a project management platform; and Typetalk, a team chat interface.
---
Unlike Dropbox, which targets individual users, Cloudike is a white-label cloud service that is licensed to mobile service providers (MSPs). It is a fully scalable solution, offering a platform with the full range of end-user applications.
The startup has announced this week that they raised a round for a 20 percent stake in their company. Bon Angels, a renowned Korean early stage investor, led the seed round and will take a board seat, with Coolidge Corner Investment and newly formed The Ventures participating.
---
Manila startup Senti wants to help Philippine companies reach those people through its proprietary platform, which promises to understand "keywords and terms in English, Filpino, Taglish, and any other variations of the language."
---
Singapore-based FaveChic curates fashion products from overseas marketplaces such as Taobao and Rakuten, and helps shoppers avoid the hassle of counting in international shipping costs and currency conversions. The startup is currently embarking on fundraising and are open to strategic local investors to partner with
---
Startup lists
---
Related startup stories
---
We're gearing up to bring you yet another round of our signature conference series with Startup Asia Tokyo 2014, happening 3 – 4 September 2014.
If you're an entrepreneur, investor, developer or just someone looking to meet and learn from the speakers and companies, get your tickets now.
From now till August 8 2014, enjoy 15% off conference passes with discount code 'earlybird'.
Read here for tips on where to eat, sleep, and stay while you are in town for Startup Asia Tokyo.
See you there!
---
Like RSS? There's always our Asia startups RSS feed!