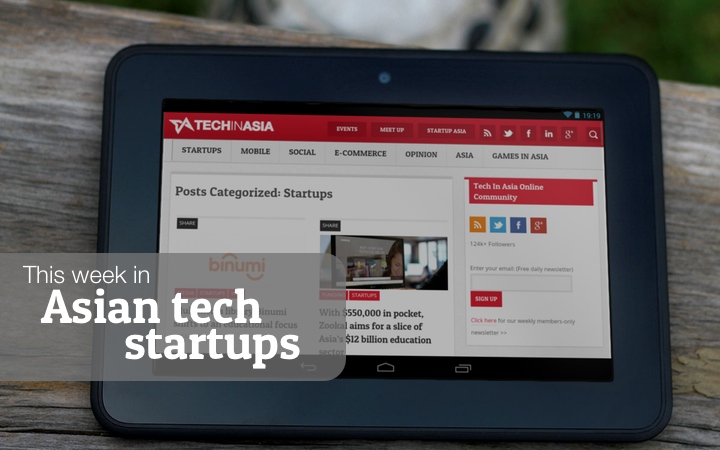 Here's our newest round-up of the featured startups on our site this week. If you have startup tips or story suggestions, feel free to email us or tell us about your startup on this form. Any juicy tech news tips go here. Enjoy this week's list!
Ookbee, an online ebook store from Thailand, which claims to be Southeast Asia's number one ebookstore startup based on app downloads, has received a series B investment from Tokyo-based IT outsourcing firm Transcosmos.
---
Weipin is an online marketplace for homeowners in China to find and hire live-in ayi – a colloquial term for maids. The startup works with local agencies that act as middlemen between maids and the homeowners who ultimately hire them. Each woman is set up with a sort of resume page that includes a one-minute introduction video.
---
Moglue provides users an easy way to create ebooks and interactive ebook apps using a simple, drag-and-drop interface. It has been revealed that Moglue's tech and source codes have been acquired, for an undisclosed sum, by US-based Auryn and Korean platform Bookjam.
---
On Philippines's Giftlauncher, users can create a wishlist to be shared on Facebook so the user's family and friends know what he or she wants as a present. Then, friends and family members can contribute through the wishlist link. The idea is simple and paves the way for people to actually receive the gift that they want to have, and not just a hit-or-miss thing from a store.
---
Founded in 2010, 5Rocks is a Korean mobile game analytics startup which lets game developers track game-playing behavior by specific segment in real-time. Users can also get actionable marketing insight through cohort analysis.
---
First launched in March 2013, InstaB is a mix of Instagram and Path for chronicling your baby's everyday activities. This week, the startup released a new feature called Baby Q&A which allows parents to attach a photo to the query. It can be seen by other users of the app. The idea is that one or more people will weigh in with some crowdsourced help.
---
Started in 2010, Guestlist is an app that puts users on guest lists at Manila's clubs with a mission to make clubbing a better experience through technology.
---
Started in 2009, Insatsu Hikaku is a website from Japan that helps users compare prices among printing companies. In 2012, Matsumoto's startup received an investment from Yahoo Japan, Nissay Capital, and Anri fund.
With money in the bank, the founder leveraged on Insatsu Hikaku's database to set up Raksul, an ecommerce site focusing on printing, in March 2013.
---
This week, Zopim, a Singapore-based startup well-known for its live customer support chat widget, has been acquired by San Francisco's Zendesk, a 500-strong customer support company that has filed for an IPO where it intends to raise US$150 million.
---
South Korea's Coinplug is a bitcoin exchange that developed a wallet and merchant payment software. The startup announced that it raised a second round of funding from Silicon Valley VCs this week.
---
Founded in January this year, Haowaijiao is an online platform from China which focuses on Chinese adults who want to learn English online. The startup has received funding from Lenovo and software company Kingsoft. The startup came out of a Kingsoft internal incubator project late last year but has since branched out on its own.
---
Launched in Malaysia two years ago, GrabTaxi, connects passengers with empty taxi cabs. It just secured an eight-figure funding round led by Singapore-based Vertex Ventures.
The startup has presence in Vietnam, Thailand, Singapore, and the Philippines.
---
BrideStory is a wedding marketplace startup from Indonesia which is home to lots of wedding merchant profiles and portfolios. Users can search the vendors based on the thing they need – like bridal, jewelry, and photography – as well as by location or price.
---
AlarmMon is a free alarm clock app enlivened by a host of colorful, cartoony characters developed by Seoul-based Malang Studio. Extra characters can be bought as in-app purchases.
The korean company revealed this week that it received funding from Yello Mobile, a larger Korean app startup.
---
Startup lists
---
Related startup stories
---
We're gearing up to bring you yet another round of our signature conference series with Startup Asia Singapore 2014, happening May 7-8 right in the heart of Biopolis, Singapore's deep tech research center.
If you're an entrepreneur, investor, developer or just someone looking to meet and learn from the speakers and companies, get your tickets now. Enjoy a 10% Early Bird discount on your conference passes from now till 24 April 2014 by using this special promo code, EarlyBirdApril.
---
Like RSS? There's always our Asia startups RSS feed!