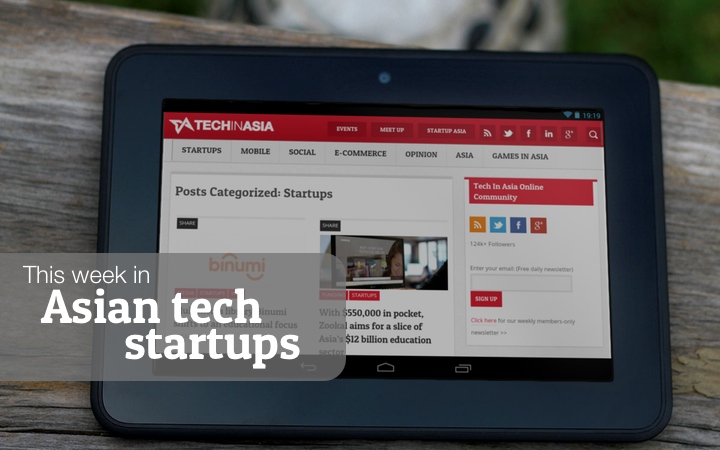 Here's our newest round-up of the featured startups on our site this week. If you have startup tips or story suggestions, feel free to email us or tell us about your startup on this form. Any juicy tech news tips go here. Enjoy this week's list!
10sec is a Japan-made social flea market app which lets people sell items online using their Instagram photos.To be launched later this month, the startup is now boosted by fresh investment from Japanese web giant CyberAgent. 10sec previously got some seed funding from Tokyo-based Incubated Fund.
---
BuzzCommerce, an ecommerce site for bringing international health and beauty products to consumers in Thailand, has announced an undisclosed amount of seed funding from East Ventures. The Thai startup aims to make it easier for clients to promote and sell popular cosmetics, dietary supplements, and fashion items.
---
Abraresto is a food discovery site built by the same team behind Singapore-based restaurant booking site Abratable. It allows users to browse venues based on the kinds of venue, cuisine, and location by mall and neighborhood. Currently the startup records 1.2 million monthly page-views, with more than 8,000 reviews and ratings submitted by its users so far.
---
A CoinPip-affiliated company, 8pip's Bitcoin prepaid cards allow customers to purchase Bitcoin by buying physical cards, and then redeeming the card's equivalent value in Bitcoin currency online at the CardToCoin website. As soon as customer details are keyed in, Bitcoin funds will promptly be transferred to the customer's Bitcoin wallet.
---
South Korea's Send Anywhere is a file-sharing app that lets users send and receive files while bypassing the hurdles imposed by the cloud. Think of it as "Dropbox meets Snapchat," with some libertarian supervision.
---
99.co focuses on long-term rentals where users are able to shortlist apartments and indicate their availability for a viewing. Once users have shortlisted their desired apartments, 99.co helps them contact and schedule viewings with the agents or landlords, saving users the trouble of having to call the lister directly.
---
Orori is an online Jewelry store from Indonesia. Currently, the store sells various jewelry products including wedding rings and pendants. Users can also buy diamonds, gold bars, and gift packages on the site. In addition, the company is working with multiple payment partners in the country to facilitate bank transfers. The startup also offers zero percent installment payments using certain credit cards.
---
Launched in February this year, 1meeting is a brand new in-browser video chat service from Japan. Both English and Japanese languages are supported. The company also added a new speech-to-text feature last month (currently only available in Japanese), and text chat logs can be downloaded by users – a very useful feature for groups that want to keep track of what gets discussed during meetings.
---
Shanghai-based Daily Themes was founded by three Yale graduates – all from different countries – to help non-native English speakers learn to write better. It accomplishes this by encouraging users to write short daily blog posts about whatever they want. If the user can't find inspiration, Daily Themes offers prompts to overcome writer's block.
---
Anchanto, a Singapore-based startup, wants to take away the sting of running an online retailer. It does this by offering companies a platform to outsource their logistics for a fee. The startup has raised a Series A round to expand throughout Asia, which follows two bridging rounds and a seed investment.
---
Tokyo-based Locaruu is a peer-to-peer platform that wants to give travelers a more immersive and personal experience by providing local guides. Locaruu encourages locals to take part in the community and give tourists interesting activities. Local stars can do this by signing up and posting an activity on the website. In turn, guests can search for activities and filter by country, type of activity or language spoken.
---
PriceArea is a price comparision site from Indonesia that claims to be the largest in the country based on web traffic. The startup announced that it has been acquired by Seoul-based Yello Mobile for an undisclosed sum.
---
Israel-based QR code generator Visualead, converts ugly QR codes into visually appealing ones, and aims to be one of the most effective and useful technologies in leading consumers from offline to online. The startup announced that it has just sealed a deal with Renren, China's Facebook-like social network, to allow any user to create a personal QR code linking to his or her account using a picture.
---
Startup lists
---
Related startup stories
---
We're gearing up to bring you yet another round of our signature conference series with Startup Asia Tokyo 2014, happening 3 – 4 September 2014.
If you're an entrepreneur, investor, developer or just someone looking to meet and learn from the speakers and companies, get your tickets now. See you there!
---
Like RSS? There's always our Asia startups RSS feed!