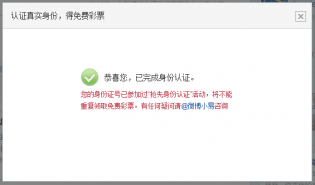 Real-name registration is coming to Chinese microblogs. Perhaps in protest of that, or just in protest of China's internet situation in general, one Chinese netizen claims to have successfully used Fang Binxing's — the father of China's Great Firewall — state ID number to register a Netease Weibo account.
Now, Netease Weibo is not the most popular Chinese microblogging site. Nor is Fang Binxing likely to be interested in microblogging anytime soon; in 2010 he opened a Sina Weibo account that was instantly inundated with so many angry comments that he was forced to abandon it. But the use of his information to register an account is an interesting sort of protest both against him and against the real-name restrictions themselves. It certainly undermines the idea that the real-name system will be free of fraud and fake accounts. After all, if a random netizen can make an account using the identity of one of the nation's top cybersecurity experts, how secure can it possibly be?
At present, the news is just being reported by the user in question via Twitter — see the original tweet embedded below — so we can't be sure whether it's true. It's also unclear how exactly the user got access to Fang Binxing's state ID number, which is needed to register a microblog account.
I have contacted the user and will update this post if we hear back.
用方校长的身份证号完成了网易微博的身份认证。 twitter.com/HeroleeCN/stat…

— Herolee™ (@HeroleeCN) March 5, 2012
[via @isaac]