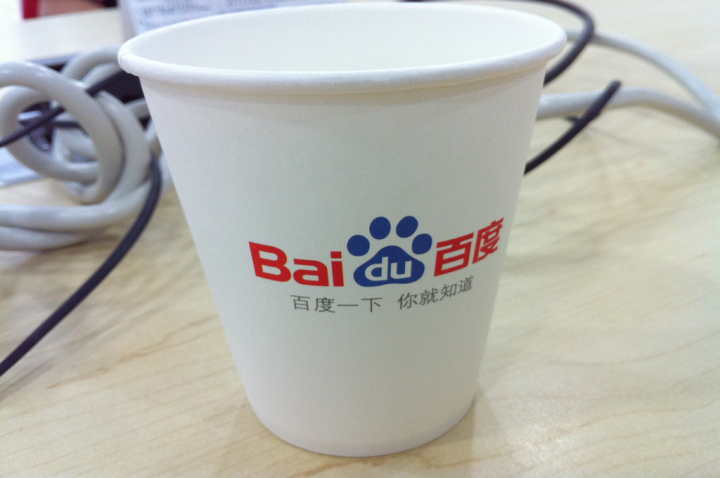 App distribution in most countries remains pretty straightforward: the App Store for iOS, and Google Play for Android. In China, however, where users face difficulty accessing Google services due to government-imposed restrictions, app distribution is a circus, with tons of third-party stores competing for market share. But with big and small tech firms fighting to become the biggest and baddest app broker, one firm sits at the top: Baidu (NASDAQ: BIDU).
According to a data obtained by China's Analysys International, Chinese mobile device owners downloaded 23.4 billion apps during the first quarter of 2014. Of that figure, more than 41 percent of those downloads came through one of Baidu's app distribution channels, which includes its flagship app store, and popular 91 Mobile  and Hi Net (which Baidu took under its wing when it acquired parent company 91 Wireless for US$1.9 billion last year). Qihoo trails behind Baidu with 27 percent market share, followed by Tencent at 16 percent market share and the independent Wandoujia at 7 percent market share.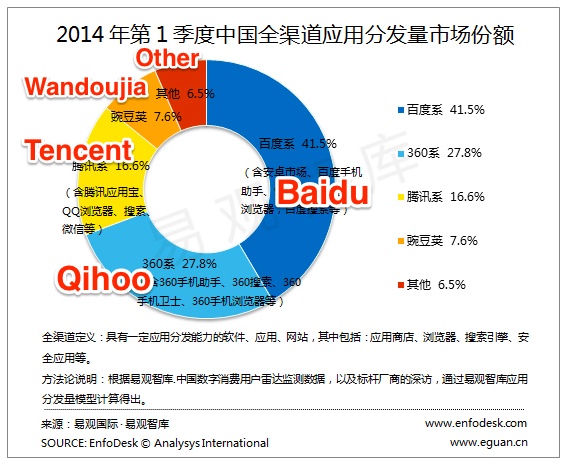 It's worth noting that these downloads don't necessarily come from what people outside of China think of as "app stores," but through links or QR codes that connect to the source of distribution. Analysys hypothesizes that Baidu's strong lead in app distribution comes not only from the 91 Wireless acquisition, but from its legacy in desktop search. Take Baidu's search engine for a spin and it's easy to see this in action: inputting "Skype" into its entry field yields a widget that lets users download the software directly to their Apple, Windows, or Android devices. As a result, it bridges the gap between "searching for stuff" and "downloading apps."
Google Search, meanwhile, offers no such widget, and users have to take that extra step and click a link to either the App Store or Google Play. But Google doesn't need to be as aggressive as Baidu, as it already dominates Android app distribution outside of China.
Tencent, however, might see even greater market share in the future. The company has been aggressively pushing its popular chat app Weixin (known as WeChat internationally) as an app distribution channel, releasing QR codes that can be scanned and shared on Weixin that direct uses to its flagship Yingyongbao app store.
Editing by Steven Millward; top image via Flickr user bfishadow