A new search optimization service for apps, AppSEO, is available in public beta today. The service is a web-based tool from the folks over at AppGrooves, which some of our readers might be familiar with as a sort of democratic app recommendation application.
But while that service was for consumers, AppSEO is targeting the market of app developers, helping to improve their "Mobile App Store SEO." Currently, there's a sort of trial keyword search tool on the AppSEO website which lets you enter your (or any) app's name, and it will provide some insights on its keyword ranking. I did a quick search for one of my favorite apps, Writing Kit, which apparently ranks fourth for the keyword 'markdown' — not too shabby (see below).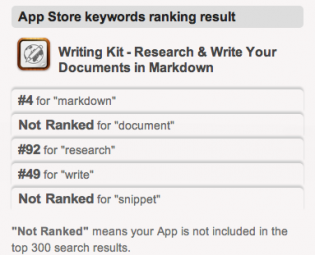 Users of the service can avail of a free or a paid plan. The free plan lets you analyze only one app, as well as three competitors for seven days only. The paid plan is $20 per app per month, as well as three competitors per app for an unlimited time. There's also a function that lets you monitor improvements in your rankings over time.
I'm not an app developer, so I can't say whether or not the tool effectively does what it claims to do — but it certainly looks good. I think it's at least worth a trial run if you're an app developer. If you'd like to learn more, check out AppSEO's explainer below.
And when you're done tweaking your keywords, you might try a service like Limelight to pretty up your app's home page.