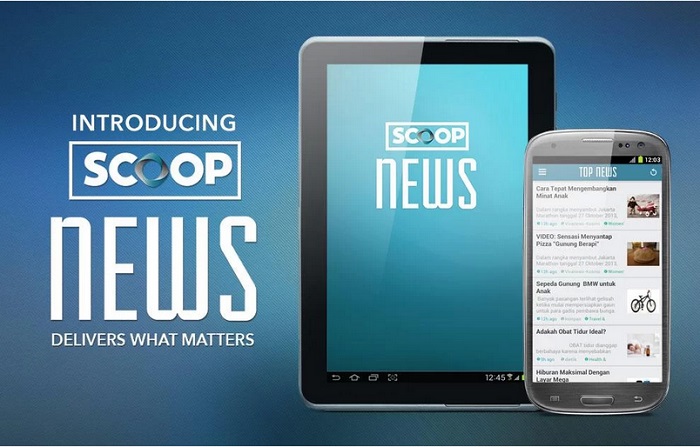 (Updated on January 27th: Scoop News is now available for iPhone.)
Following the popularity of e-Reader Scoop, Apps Foundry1 launches Scoop News today. This free Android app curates Indonesian local news from various popular sources such as Kompas, VIVAnews, Tempo.co, and Dreamers Radio. The news categories vary, and include everything from gossip to science. There is also a technology section, which is going to be my favorite destination.
How smart is Scoop News?
What differentiates Scoop News from other news readers is its smart machine-learning algorithm. After users read an article, there will be a small pop-up banner with a recommendation article to be read next. The article is specially curated by the team as one of top news of the day. Top news can also be generated from users reading habits and interests because the app gets smarter every time it is used. The more you read from Scoop News, the more tailored the top news will be to your personal interests.
Lack of Indonesian news apps
Scoop News wants to be a problem solver. Willson Cuaca2, the CEO of Apps Foundry, said:
We don't see any strong local mobile player in this space while users are having a real problem discovering certain topics from one site to another, it's inconvenient. Scoop News is trying to solve the problem by recommending articles based on a machine-learning algorithm. It helps users to navigate through this information-overloaded world and find what matters to them.
Independence after Kompas investment
Scoop received a $2.4 million investment from PT. Gramedia Digital, a subsidiary of publishing media giant Kompas Gramedia, in April. Cuaca says that Kompas helps the team grow both geographically and vertically. The Scoop team has gained valuable access to the publishing industry, as well as some know-how in the media industry. He says that Scoop News is just one of the initiatives the team has planned.
Scoop News is an app that aggregates news, Cuaca stresses that it remains independent in providing the most suitable news to readers, despite its affiliations with Kompas. He says:
To be clear, with the investment, Kompas has committed since day one to keep Scoop independently and playing non-operational/advising role.
We keep ourselves distant from their corporate culture (which is a good one, but foreign to us as startup) and they are even open for future investment by 3rd parties to Scoop if it is necessary. It is a new paradigm for their business venture.
Scoop's progress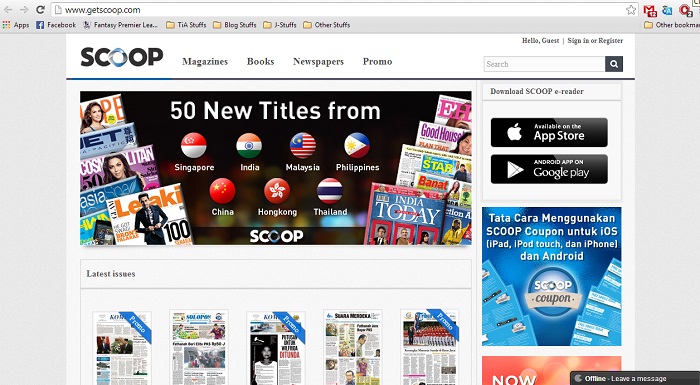 The flagship product of Apps Foundry is its e-reader app Scoop. Cuaca shares that the app has passed one million total downloads, an additional 350,000 downloads since April. According to AppAnnie, currently Scoop holds the sixth top grossing position on Indonesia's iPad app rankings, as well as the 15th grossing spot on the iPhone app rankings.
At the moment the team has over 80 magazine apps powered by Scoop's white label platform on both Android and iOS. It is planning to increase that number to 100 by the end of this year. In total Scoop has almost 700 magazine titles available on the app.
It is interesting to see that Scoop News promotes local news, which is in Bahasa. Wilson told us that they want to "focus on local language to differentiate ourselves from other international competitors which are a lot like Feedly, Zite or Flipboard." If the response is good, it plans to expand to other local languages.
Download Scoop News for free on Google Play and on iPhone.
(Editing by Enricko Lukman and Charlie Custer)