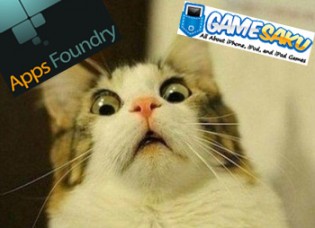 So news was sent to us yesterday that Apps Foundry has acquired Gamesaku, an iOS game review site. It's the second media startup which Apps Foundry has acquired recently. As someone who is in the media space, I have to admit that it does raise some questions on my part. Why is Apps Foundry acquiring blogs? Is Apps Foundry trying to influence the media?
If you have been following our blog, you may already be aware that one of the founders of Apps Foundry is Willson Cuaca, who also happens to be an investor in our blog. Having work with him closely for a year, I can safely say that he isn't the sort of person who would buy or invest to influence media coverage. He has enough credentials behind him to prove that he isn't that sort of guy.
Still, I understand the questions from observers. After all, acquiring two media blogs such a short time span is quite an eye opener. I asked Willson about the strategy behind these acquisitions. He replied saying:
[The] new SCOOP interactive business model is display ads on tablet. These two blogs, [MakeMac and Gamesaku] have the same business model. They will complement each other. […] It is just corporate action. both parties find synergy and want to grow the business. It's logical and it's practical in operation.
So Apps Foundry acquired both blogs to increase ad impressions, and in turn sales. Fair enough. Surely, the folks from Gamesaku would not give up editorial independence for this acquisition to take place. But we'll have to wait and see, I guess. I expect many eyes will be on these two blogs, ready to jump in if they find something fishy brewing.
It looks like Apps Foundry might be doing an AOL sort of approach, consolidating media under one umbrella. If that is true, there is chance that Apps Foundry's media acquisition spree might just go on. Whatever it is, the Gamesaku and MakeMac acquisitions have already happened, and I'm happy to see casual bloggers being able to turn their hobby into a full-time job through the acquisitions. Though I must stress that it is important for MakeMac and Gamesaku to maintain their editorial independence. That's a pretty big core value for our blog here as well. Readers' trust is not something you want to screw with. Blog happily, but also with integrity and honesty.