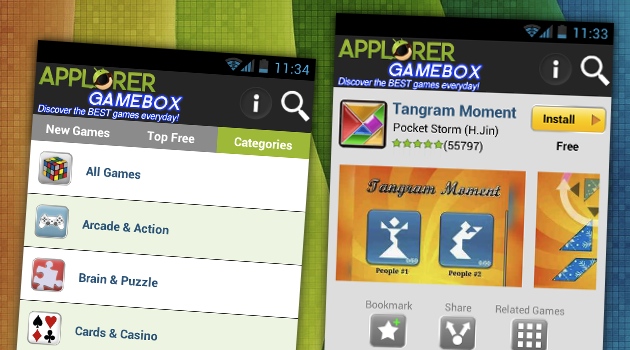 From the Singaporean team that brought you MoVend, an in-app mobile payment platform, comes a brand-new app called Applorer Gamebox. Its creators call it a "game discovery app for Android" that's initially aimed at Asia.
Applorer has a range of free and paid games from publishers such as Electronic Arts (NASDAQ:ERTS), and its premium, paid-for apps are aimed currently at consumers in Singapore, Malaysia, Thailand, and Indonesia. There, mobile gamers can buy new titles from within the app using either PayPal, Cherry Credits, or MOLPoints. All that is powered by MoVend's billing platform.
Support for other countries is coming soon, Jeremy Ee, the marketing executive at Stream Media, told PO. The company has already enabled Alipay payments on MoVend, so he says that "China is definitely on our agenda" since it already has the nation's biggest online payment method wired-in to its platform. "But we will first need to acquire the right type of content for the Chinese market," explains Jeremy, "and then do the same thing for the Korea and Japan markets."
The Applorer app works all around the world, and I downloaded some free games using it from here in China. After hitting the 'install' button in Applorer, it then took me to the official Android Market to get the game. Because it's about game discovery, it's like a curated shopfront to Google's (NASDAQ:GOOG) sometimes cluttered Market. And that clutter, Jeremy says, was why the team made Applorer:
A few months ago, we read with excitement that Android Market has surpassed the 500,000 mark for number of apps uploaded. But at the same time this also raised concerns, for both consumers and mobile app developers, regarding the discoverability of Android games.

After a thorough analysis of the games on the Android Market's 'top apps' lists, we realized that those games that make it to the top of the list don't change very often.
And so Applorer should make it easier for ardent mobile gamers to find interesting titles, as well as bring a better range of payment methods for premium apps than Google has bothered to implement. Plus, unlike with the unwieldy and often annoying Google Checkout system, no credit card is needed.
Find Applorer Gamebox on the Android Market.