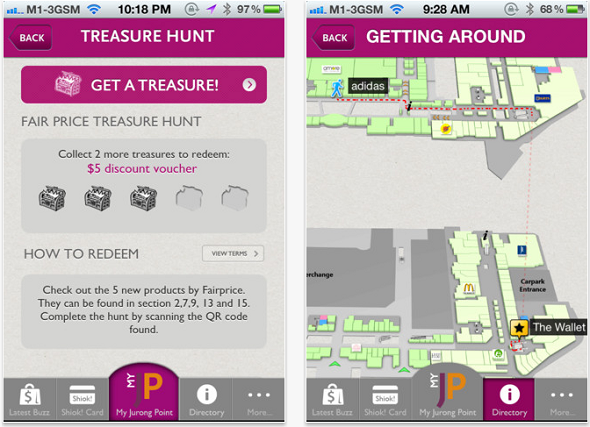 Jurong Point, one of Singapore's largest suburban malls, will soon integrate Apple's Passbook technology into its retail app. This means that iOS6 users with the app will be able to claim an offer without needing to download anything else. Passbook comes included with iOS6 and iPhone 5.

The mall app's new feature is slated to be available by end-November. The creator, Accumbens Networks, claims it will be the first retail app in Singapore to integrate with Passbook. Besides facilitating offers and promotions, it will also be used with the My Jurong Point app to collect data on consumers and their purchasing habits. These insights will be shared with merchants.
Passbook has been much touted since before iOS6's release. Besides storing customer loyalty cards, it aggregates mobile, concert, and game tickets, as well as boarding passes and discount coupons. In the United States, Major League Baseball has begun using it for e-tickets, and so has cinemas and online pharmacies.
It will present a challenge to mobile loyalty apps in Singapore and Asia, which have been rapidly securing retailers and partners. For instance, Perx's tie-up with SingTel should accelerate its adoption among F&B establishments in Singapore.
Squiryl has not been standing still either. It recently partnered with Sakae Sushi and Cafe Cartel on their customer loyalty programs. And in addition to letting users collect loyalty stamps, it collaborated with Bakerzin to offer 1-for-1 deals through Squiryl and the patisserie chain's Facebook Page.
At the moment, Asia's mobile loyalty players are enjoying a head start and home field advantage in the region. Passbook, however,  is available with every iOS6 phone. More than 100 million users have upgraded to the latest OS, and another 5 million have bought the new iPhone, according to Apple. This lowers friction in customer adoption, since users would not need to download another app.
If Passbook's presence has not spurred local competitors to expand more quickly into the region, it should. Some VC funding would not hurt either.