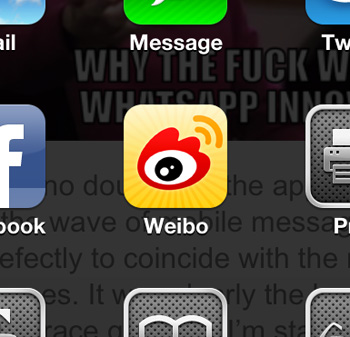 We know that Apple's iOS 6 is integrated with Sina Weibo in China and/or for users with Chinese settings. But we came to realize that Sina Weibo isn't just integrated for users who opt for Chinese language. But it is also integrated for international users, or iOS 6 users who opt for the English language setting.
This comes as a big surprise because we all know that Sina Weibo, though it has an English app, isn't quite popular among English speakers, who likely prefer Twitter. So it is quite interesting for Apple to to have decided to include Weibo even in English iOS 6 installs.
While buying pizza earlier on, I met a Sina engineer who managed this project with Apple and told us that in the initial phase, Sina Weibo was planned to be integrated across all iOS 6 users. Yes, all!
But towards the launch, Sina Weibo was going to only be shown to users who set Chinese language in their settings, meaning English users wouldn't be able to see Sina Weibo share button. But ultimately, as we know now with Apple's iOS 6 out in the wild, English users still have the Sina Weibo share button. Our engineer friend at Sina isn't quite sure why either.
I'm not sure if this is a mistake or a deal between Sina and Apple. But such a roll out does serve Sina pretty well. It's a pity that Sina Weibo doesn't yet have an English website for all iOS 6 English users to test out its awesomeness, though.
On a related note, in Apple's Mac OS 10.8 update earlier this year, Sina Weibo, together with Tencent QQ, Baidu, and Youku were all part of the package for Chinese users.