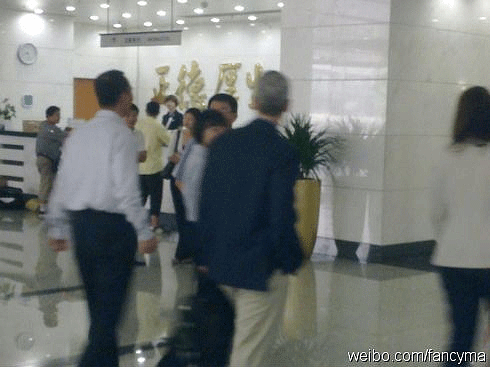 Apple's COO, Tim Cook, was yesterday spotted at China Mobile HQ in Beijing, raising speculation that Mr Cook was in the building to discuss a 4G TD-LTE iPhone with executives at China Mobile, the world's biggest mobile telco.
The hawk-eyed spotter is a journalist at one of China's biggest financial newspapers, so although it's not a great photo, we have a reliable spotting of Apple's second-in-command. The journalist posted the photo to her Weibo, where it has since garnered over 3,000 retweets, and nearly 600 comments. In the accompanying text she wrote:
This morning, around 10am, Apple COO Tim Cook is spotted in the lobby of China Mobile's HQ, accompanied by 7-8 people. Probably Cook is talking with executives from China Mobile to discuss bilateral cooperation for the iPhone. Both China and America flags are seen in the lobby, and Cook seems to be happy.
At the moment, the smaller
China Unicom
has exclusive rights to sell official iPhones, by dint of the fact that it's the only telco in China that runs the WCDMA 3G network, which is compatible with the GSM iPhone. People who do use their unlocked iPhones with China Mobile do so only on the much slower 2G/GPRS network for data.
That could well be shaken up when 4G rolls out in China, but that looks set to be a very long way away, since initial 4G TD-LTE testing in China began only a few months ago, and is not yet fully up and running. So, even if the upcoming iPhone 5 – or will it be badged, aptly, as the 4G? – is rocking 4G LTE so as to compete with numerous Android phones that are enjoying the fastest possible mobile data, then it won't be hitting China in that configuration this year.
So, until we figure out what brings Tim Cook to China Mobile HQ – have a fun trip to Beijing, Mr C.
Thanks to Micgadget for the translation of the Weibo text, included above.