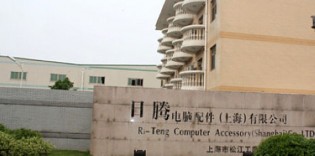 China's official state wire service Xinhua reported late last night that RiTeng Computer Accessory Company, a supplier to Apple, HP, Dell, and Asus, has been fined for "intentionally discharging pollutants and damaging a river in Shanghai." Environmental authorities say that the company intentionally dumped waste into a drainage system that feeds into a Shanghai river.
RiTeng was also found to be responsible for noise pollution and other environmental infractions, and as a result environmental authorities have shut down some aspects of its production in addition to fining the company.
Readers with a sharp memory may recall the name RiTeng from back in 2011, when an explosion at the company injured 57 workers during a trial production run of Apple's iPad 2. It's clear that a few years later, RiTeng hasn't quite worked out the kinks, and the promise on its website to provide "world-class green [environmentally friendly] products" hasn't exactly been fulfilled yet.
It's not clear whether the partial shutdown will affect production of any of the devices RiTeng provides supplies for, but the spill comes at a particularly bad time for the company in terms of PR, as Sina Weibo is currently in the midst of a high-profile clean rivers campaign.