Nearly three months after Hong Kong got its second official Apple Store, it's all set for a third, which is due to open quite soon – likely before Christmas – in the Causeway Bay area.
The newest addition to Apple's (NASDAQ:AAPL) growing retail presence in Asia will be its most dramatic in Hong Kong yet. Located over a couple of floors on one corner of the luxury brand-oriented Hysan Mall, the store is currently partly obscured by Apple's own teaser posters – "An opening you simply can't miss" – placed across what seems set to be a multi-floor glass storefront.
In street-level photos from Casey Lau and our own Li Chen, it's clearly an area with a great deal of passing foot traffic. The first Apple Store in the Chinese city is in the IFC mall, a few miles away also on Hong Kong island.
Apple has not yet confirmed the opening date for its newest shop, but Hong Konger Casey Lau said on Twitter over the weekend that "you'll be able to shop there before the 25th," meaning that it'd open in good time for the Christmas and New Year shopping rushes. And, perhaps more importantly, before Chinese New Year.
Asia set to be Apple's 2nd-biggest region
Apple's shift to international retail stores has been dramatic in recent years, after perhaps hitting saturation point in the US. But it still leaves a lot of surprise omissions in Asia, such as the lack of an official store in places like Singapore. But, as MacStories recently revealed in some fun number crunching, Apple's retail ambitions truly went global in 2009, and in 2012 the company looks set to see 83 percent of its store openings in non-US locations: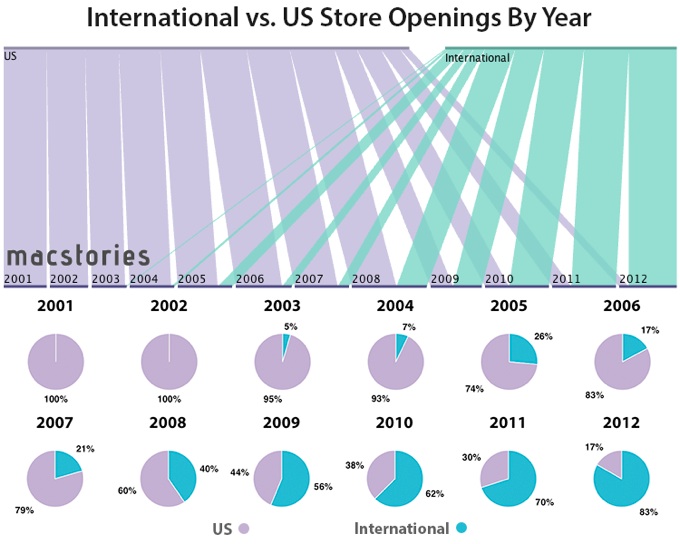 With the Greater China area – which includes Hong Kong – accounting for 15 percent of Apple revenue in its most recent financials, Asia-Pacific is close to permanently surpassing Europe to become Apple's second biggest region: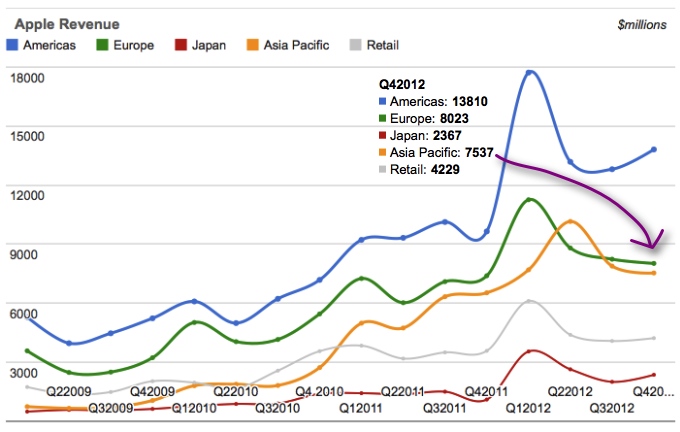 [Sources: 9to5Mac, Casey Lau (@hypercasey), and Chen Li on G+]