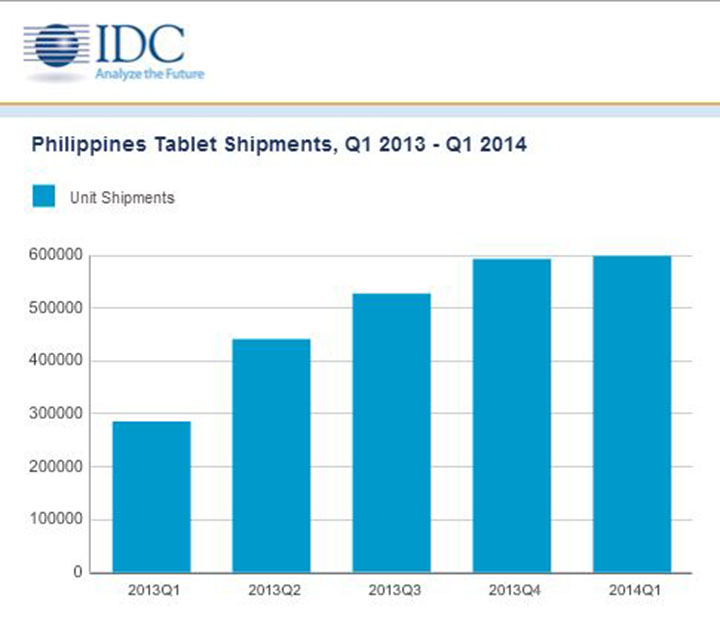 Tablet shipments in the Philippines grew 110 percent year-on-year, according to a recent report for Q1 2014 by research firm IDC. That's the strongest growth rate for tablet uptake in Southeast Asia. In total, there were 598,375 tablets shipped in the Philippines in the first quarter of 2014.
While Samsung and Apple still lead the race, IDC underscores that tough competition is now arising from local gadget makers as well as other global players. This is similar to the smartphone situation in the Philippines where cheaper homegrown phones are in big demand.
This highlights the fact that Filipino consumers are now looking at budget-friendly devices. Among the local tablet manufacturers, Cherry Mobile and Starmobile are two of the strongest. Recently, Cherry Mobile launched an LTE tablet called the Superion Scope to ensure it has the 4G market covered.
Apart from the local brands, the report sees the tablet competition broadening. Jerome Dominguez, IDC Philippines associate market analyst, explains, "International PC vendors, like Lenovo and ASUS, are continuing to bring in entry-level tablets at attractive price points, competing head-on with the offerings of local and Chinese brands."
See: 15 new Asian smartphone makers hoping to crush Samsung and Apple
Demand for better quality
Coupled with Filipinos' appetite for budget-friendly tablets, the brands' marketing efforts and endorsements backed by celebrities are helping them increase sales.
In addition to the price-tag, the report underscores that quality is also becoming an important consideration in purchasing a device. This is heightened by the fact that defect issues have been plaguing the Philippines tablet market since 2013.
Daniel Pang, IDC Asia-Pacific senior research manager for client devices, believes that "the growing competition between international and local tablet brands is good in that it will encourage the players to continue to innovate and improve product quality to stay ahead of the competition."