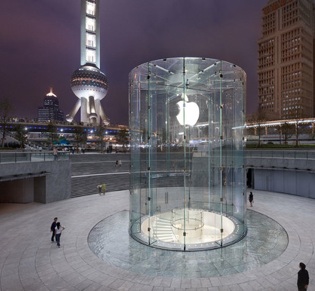 Apple (NASDAQ:AAPL) currently has eight official Apple Stores in mainland China, and now the Cupertino company looks set to open a very different kind of facility in the country – a research and development lab. The China Business News claims that this is a done deal, and that an Apple R&D and procurement management facility will open in Shanghai's Pudong district this summer. It cites the Sina Weibo account of the Shanghai Municipal Commission of Commerce as publicly stating that this is all confirmed.
[UPDATED 14 hours after posting: MorningWhistle says that an Apple insider has informed Chinese media: "The source said the new facility is to strengthen Apple's management over its supply chain in China and has started to recruit high-level talent in the supply chain field in Shanghai." – So it's not actually for R&D].
The new Apple base is said to be three buildings that cost a total of US$8 million to rent each year, and will be at 385-397 Yuanshen Road. That seems to match a cluster of buildings on that street adjacent to Yuanshen stadium. Browsing through jobs listings reveals a lot of Apple jobs posted on third-party HR sites on January 27th for the Shanghai area, including positions such as AppleCare team manager, SPS business analyst, and an admin assistant for the Apple Online Store. So Apple's Shanghai base could be a new customer service hub too.
Apple has not yet confirmed the move.
It might seem surprising not to set up this kind of base in Beijing, like in the capital's tech-oriented Zhongguancun. But Apple will actually be following a lot of other big names such as Motorola and Microsoft in heading towards the younger, flashier, and much less terrifyingly polluted Shanghai.
We know that China snaps up 15 percent of Apple's gadgets, and that iPhone sales in China doubled in 2012, so we can see that Apple's fate is tied quite strongly to wealthier Chinese consumers. Asia-Pacific will soon firmly surpass Europe as Apple's second-largest market: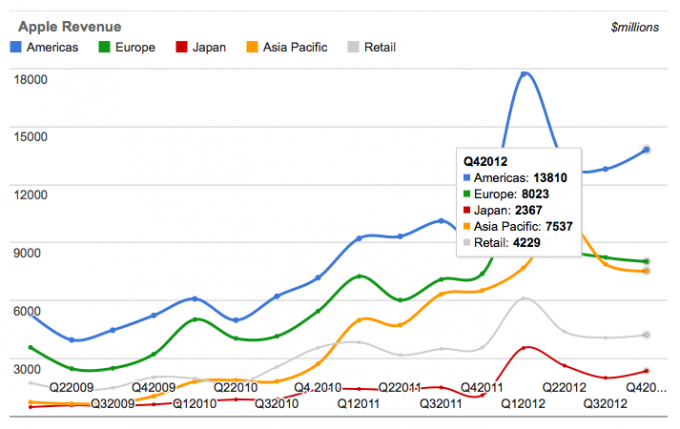 (Sources: AppleInsider and Yicai (article in Chinese))