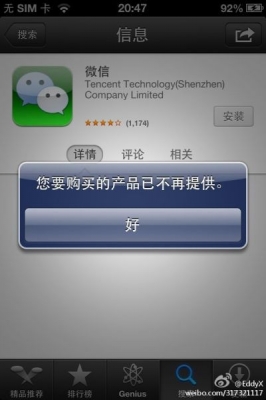 Two steps forward, one step back. Just as Tencent was probably celebrating the official launch of WeChat in Indonesia comes news that Apple has apparently removed Weixin (same product, Chinese name) from the China app store. Web users in China discovered this evening that several of Tencent's products, including the highly popular messaging app Weixin, have been removed from the app store. Users who have the apps installed can continue to use them, but attempts to download the apps are met with the error message in the image at right: "the product you would like to purchase is no longer available."
Tencent's apps also seem to be down in other Asian app stores, as my esteemed colleague Willis, who uses the Singapore app store, reports that Weixin and WeChat are also missing there at the moment. It's not clear at the moment whether the app is also down in Indonesia's app store, but if it is, that would be a real bummer for Tencent given today's launch celebrations. Tencent's products seem to be unaffected on the US app store, though, as WeChat Voice is still available for download there, as is QQ Browser.
The disappearance of Weixin appears to be a temporary bug, as Tencent has responded already that after communication with Apple, the issue has something to do with the bank attached to Tencent's developer account. The company expects everything to be back to normal within a few hours.
Indeed, it's hard to imagine Apple would intentionally and permanently remove one of China's fastest-growing social apps (and one that's increasingly popular outside China, too). Removing a popular, useful app like Weixin would be almost like if Apple were to remove a widely-beloved mapping app and replace it with something way worse…oh wait. Perhaps Tencent ought to be a little worried after all…
Also see: Dear Whatsapp, Aren't You Threatened By WeChat?
[via Sina Tech]