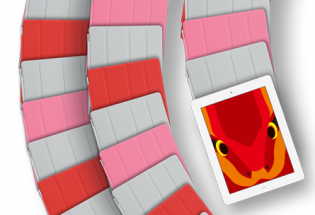 While it's still Christmas Day in the Western hemisphere, those of us here in Asia are waking up on Boxing Day right now, and that likely means that we're also seeing the first post-Christmas online sales. Here in Japan, I'm also seeing a promotion for my favorite holiday sales event, Apple's (NASDAQ:AAPL) one-day 'Lucky Bag' sale, which has just been confirmed for January 2nd and will take place in seven stores nation wide.
If you're not familiar with this sale, it's essentially a very expensive grab bag of goodies from the Apple store, priced at 33,000 yen (or about $390). It usually includes things things like iPods, headphones, and accessories, but sometimes lucky shoppers will hit the big time and get a Macbook or an iPad, which pushes the value way past the price of the bag. Last year there were also Apple T-shirts, and even the bag itself looks sort of cool. I predict more than a few customers will see iPad Minis this year too.
Unfortunately, you'll have to get in line very early if want one of these Lucky Bags. People typically begin lining up at the Apple store on the night before, so if you show up in the morning, and still manage to secure a bag — well, consider yourself lucky. I tried a couple of years ago, but walked away disappointed.
Now, if you're not in Japan, you can expect Apple to soon announce some sales where you are too. Fans in China especially can look forward to an announcement soon, as the dragon graphic [1] for the Japan sale (pictured above) looks like it was designed with China in mind. Last year we saw Apple promote new years sales all across Asia on a Friday, so I expect we'll see something similar this year, perhaps for next Friday, January 4. Stay tuned!