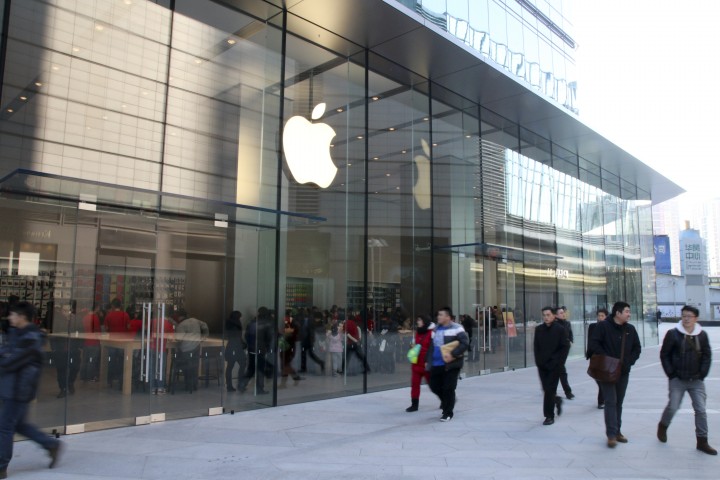 Chinese authorities delivered a stiff one-two punch this week to their favorite foreign punching bag, Apple (NASDAQ:AAPL).
First, a Chinese court rejected Apple's claim against the national Patent Review Committee and Shanghai Zhizhen Network Technology, according to WSJ. Apple argued the latter's patent on a Siri-like chat robot was invalid. Apple originally filed the lawsuit because it was in turn being sued by Zhizhen, which alleged Apple was infringing on its chat robot technology.
Apple says it will appeal the decision. WSJ reports that Zhizhen might be open to a settlement.
Today, China's state-run TV broadcaster CCTV slammed Apple (again) for its location-tracking function, which it said constitutes a national security threat. The "frequent locations" function in iOS7 – which can be switched off – raised a few eyebrows in the west as well. It allows iPhones to tracks users movements throughout the day to "provide useful location-related information," and also to collect data valuable to brands, merchants, and advertisers.
Update July 14: Apple has responded with a statement (in Chinese) saying it does not track users' positions as described by CCTV, it has never done so before, and it will never do so. Apple thanked CCTV for its efforts in "assisting" user education.
CCTV interviewed researchers who said Apple – and whoever it gives that data to – could "gain knowledge of the broader situation in China or 'even state secrets,'" reports WSJ.
Chinese officials have made few efforts to hide the fact they would prefer domestic technology alternatives over the foreign status quo, amping up their witch hunts since Snowden/NSA. But Apple has long been a major target of flack even before the PRISM program was revealed.
See: Which Chinese tech companies benefit from cyber security row with US?
Apple's iMessage was recently the subject of a government crackdown on spam. The company has been the subject of mutliple labor rights violations concerning the factory workers who make its devices. The national state run newspaper called the iOS App Store a porn offender, while CCTV accused Apple of bias against Chinese customers over its return policies. And so on.
Most of these smear campaigns originate from Communist Party mouthpieces such as the People's Daily, CCTV, and the Xinhua News Agency.
(Source: WSJ)